What is the NewStart Pathway?
Veterans, start your career in the civilian world with the NewStart Pathway. This is a 6-month pathway designed for individuals who have recently transitioned from the military and are looking to gain professional experience in an award-winning environment. This is a fully paid position on our technical support team, and those who successfully complete this pathway will be offered a full-time position with KnowBe4.
Pathway Dates
Applications Open:
June 2022

Pathway Starts:
August 22, 2022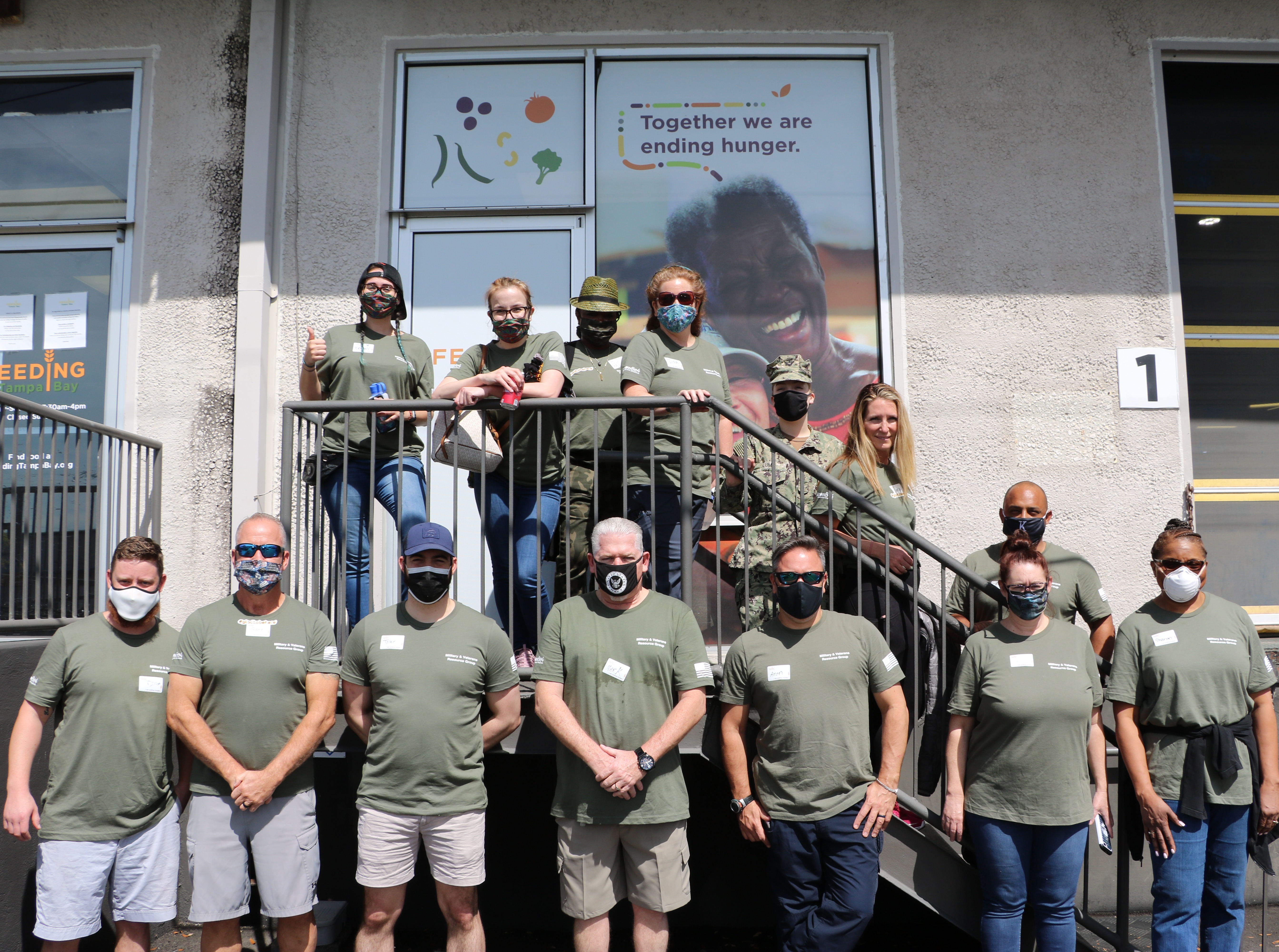 Support for Veteran Employees
KnowBe4 has a strong veteran workforce and our team is dedicated to supporting our veterans, which is perhaps why KnowBe4's veteran workforce has increased by over 20% in recent years. We recognize and value the unique experience that our veterans bring to the table, and veterans have historically been promoted 39% faster than non-veteran employees. We have a highly engaged Military and Veteran employee resource group which provides camaraderie, resources, and tools to our team members and we help our military members who continue to serve part-time by providing paid military leave.
Build Your Professional Portfolio
Showcase your personal and professional development.
Get professional headshots.
Create a strong resume full of new skills.
Further Your Education
Receive comprehensive training and onboarding.
Earn industry certifications after pathway completion.
Receive tuition reimbursement upon pathway completion.
Learn From the Best
Access KnowBe4's amazing network of performance coaches.
Work with our Career Development team to plan your future.
Join "Ask Me Anything" sessions with top executives.
Have Fun
Join a dynamic team that understands how to make work exciting.
Participate in frequent team-building events.
Get all the perks of being a part of KnowBe4!
Common Career Journeys
This chart shows just a few of the common career journeys that KnowBe4's technical support employees follow. Through our education, certification, and career development programs, the potential for growth is limitless!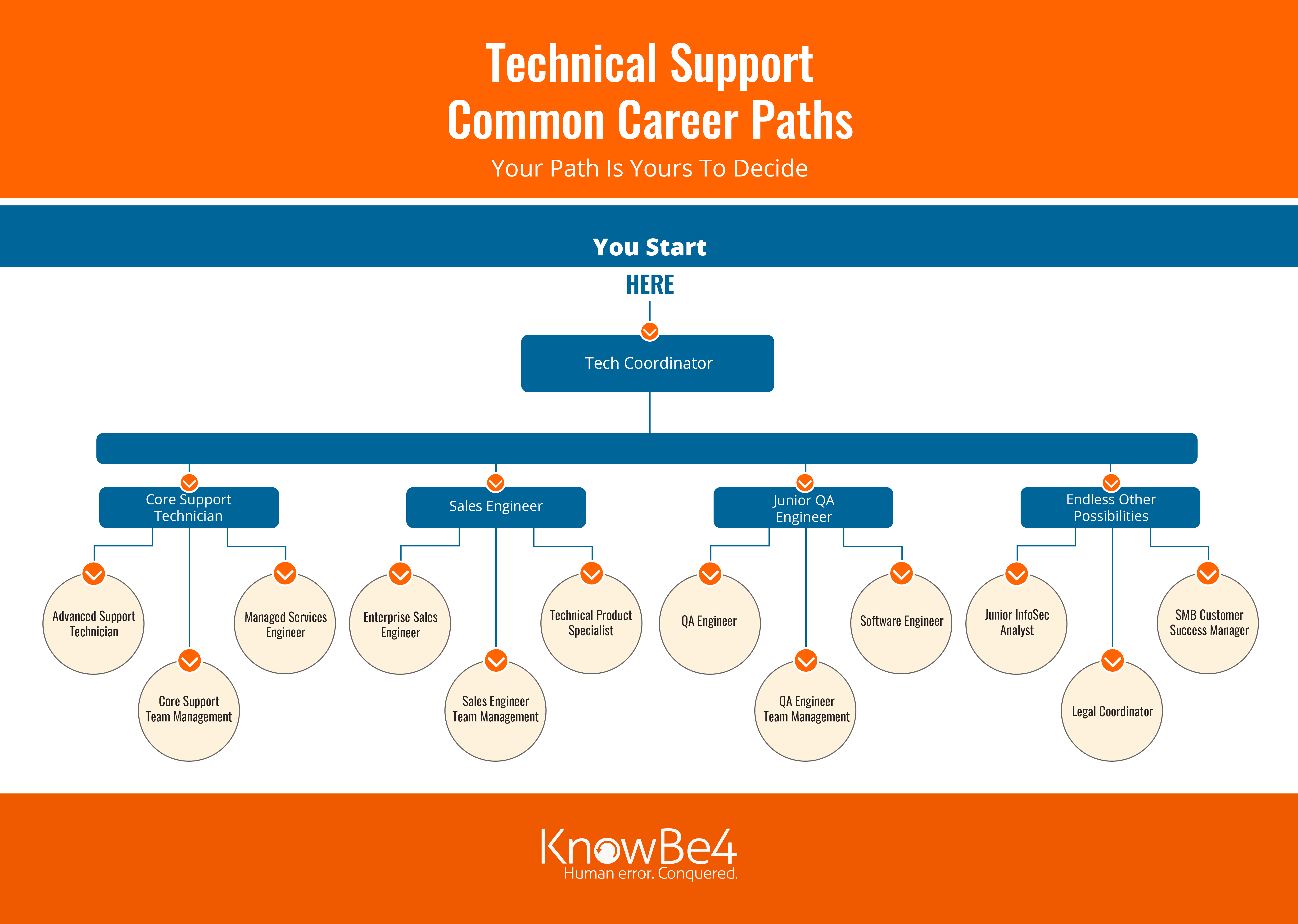 The NewStart Pathway is an opportunity to experience firsthand how the technical support team operates from a core support perspective.
As a technical support team member, you will work with the customer success team and sales representatives to provide customer support and help resolve technical issues. Technical support members are also the first line in resolving help desk tickets. The rotation will include assessments after three months to ensure the team member has a grasp of support processes and procedures.
Requirements
Must be 18 years or older at the start of the pathway

Looking for a NewStart to your career
Military experience
Driven to learn new things
Able to work from our office in downtown Clearwater, FL
Skills Required
Strong verbal and written communication
Basic understanding of computers, email, the related uses, and terminology
Interest in technology and customer service
Excellent time management and organization skills
Essential Responsibilities
Consult with the organization's customers or end-users regarding the implementation and configuration of KnowBe4's products to modify it to suit the customer's needs
Test and configure KnowBe4's products and modify them so that they function in each customer's unique environment
Work in conjunction with the Product team to provide feedback or other information needed to enhance KnowBe4's products
Consult with customers for new product ideas and enhancements related to the KMSAT console
Communicate directly with clients or end-users to gather details as needed to fully define issues or new requirements
Work collaboratively with CSM team to quickly resolve customer's issues
Investigate and document technical issues and communicate any trends or patterns to the Research & Development team
Monitor the ticketing queue to prioritize, allocate and ensure timely resolution of issue reports and change requests
Apply troubleshooting and problem-solving skills to guide and assist the end-user community on issues related to design, development, and deployment of KnowBe4 products
Investigate and document issue reports and communicate findings to the development team or clients as required
Present technical walkthroughs to customers
Work with the sales reps and CSMs to give demonstrations of the KMSAT console to the customers and/or end-users
Train customers and end-users on how to best use our training platform including the discussion of best practices to fully deploy the training to its employees
Attend prospect and customer meetings, supporting the sales team as a KMSAT console subject matter expert
Work in conjunction with the Product team to provide feedback or other information needed to enhance KnowBe4's products by consulting with customers for new product ideas and enhancements related to the KMSAT console
Upon successful completion of the NewStart Pathway, you may apply for an open KnowBe4 position in accordance with company policy. As your employment with KnowBe4 is "at will," KnowBe4 specifically reserves the right to terminate the employment relationship at any point during the NewStart Pathway, or following its completion, with or without cause or advance notice, and without the need to follow any progressive discipline contained in the employee handbook.