With months of consistently low cases of COVID-19 in the Netherlands, our local office was finally able to get together a few weeks ago and celebrate KnowBe4's 10 year anniversary!

Our whole team went out to "Restaurant Vroeg", an amazing restaurant in the nearby village of Bunnik. The Knowsters loved the wide-open grounds that the restaurant provided and thought it had an amazing atmosphere. As one Knowster said, "we had a really good time and enjoyed every minute."

In addition to the amazing food provided at the restaurant, our office manager, Melanie, had some more treats for us. Melanie brought incredible chocolate bonbons, called "Domtorentje" from "Banketbakkerij Theo Blom", a local bakery famous for their Domtorentje.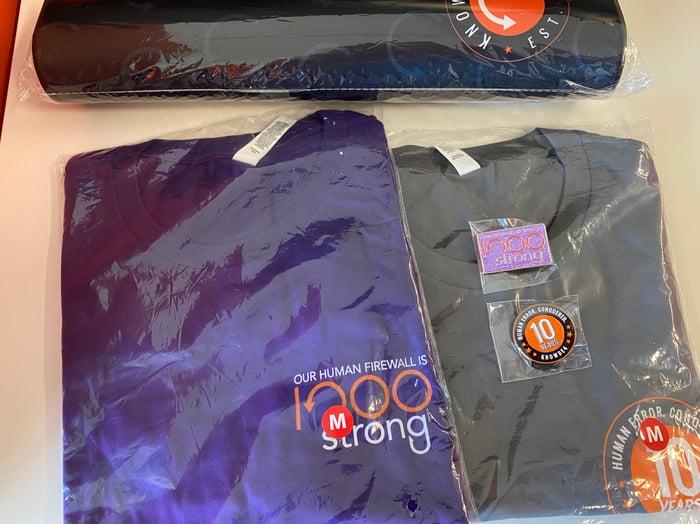 Plus, we got a sneak peak of our anniversary swag! The swag, which is being delivered to our houses, includes new t-shirts for our 10th anniversary and our 1,000th employee as well as a 10th anniversary-themed desk mat, and new pins for our flags. In case you don't already know, Knowsters can earn special pins from participating in company events; these pins are displayed on special flags that adorn every desk in the office and have become part of a fun competition to earn more pins than anyone else. Some pins are rarer than others, and one day in the future the 10-year anniversary pins will be a rarity, as only the Knowsters who were employed as of our 10th anniversary get these special pins.

Our office in Utrecht has been expanding so quickly that it has more than doubled in size since KnowBe4 started working at home during the COVID-19 pandemic. As a result, over half of the Knowsters in our local office had never met each other in person prior to this event. While the office has had plenty of virtual get-togethers over the last few months (like weekly Friday afternoon drinks over Zoom), this event was really the first time we have been able to get together in person. The anniversary party was a reunion for all the Knowsters who had not seen each other in months as well as a great way for all of the new Knowsters to meet and mingle with their coworkers. As the sun set over the Netherlands, all the Knowsters got to spend time relaxing and bonding with their team members in a way we had not been able to do for months.
If you're looking for new opportunities at a great company that takes care of employees, then we've got great news for you: