KnowBe4 is in hyper-growth mode and our staff is expanding rapidly! We are always on the lookout for hard working and fun-loving professionals to continue helping our clients protect their employees against malicious cyber attacks.
The recruiting team set off to Tampa for the Dice Service Targeted IT Job Fair to seek out these incredible tech-driven individuals! We are currently seeking talented QA, Ruby on Rails, Golang, and PHP Developers. If you or anyone you know is a senior programmer interested in working for the #1 best place in Tampa Bay, contact our hiring team!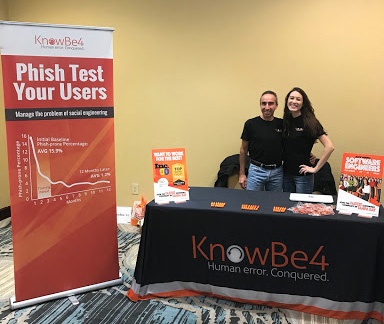 Drew and Shelby snagged a booth to represent the KnowBe4 development team!
The event was open to the public from 11AM - 3PM and the turnout was a huge success! A big thanks to Dice Service for hosting the career fair and to the entire recruiting team for the time and effort invested in building the KnowBe4 family!