It's been over 5 months since KnowBe4 moved all of our employees to remote work. In this time, we've found a lot of new ways to keep the Knowsters happy, healthy, and engaged while they work from home. Here are a few of the fun virtual activities that can be found at KnowBe4.
Monthly Trivia
Trivia is a big deal to the Knowsters, and they can get pretty competitive about it, so we made sure our monthly trivia competitions can still happen virtually. Since the pandemic has started we've had virtual trivia competitions for Game of Thrones, Star Wars, Parks and Recreation, Alien Invasion, and Disney! Participants get really into the spirit of the game and many Knowsters choose to dress in costumes to match the trivia theme. The winners of each trivia competition earn not only eternal pride and glory, but they also win some awesome flag swag! The winning team from "Marvel vs. DC" trivia got a very special Deadpool pin to show off on their flags. If you are unaware, "flag swag" is a pretty big deal around the KB4 offices. Flag swag is comprised of a variety of pins that can be earned by participating in company events and company/team/individual milestones. The pins can be found adorning special flags at every desk, in every office. Some pins are more rare than others, and the trivia pins are among the rarest, as only the winning team of each month's trivia will receive the unique pin relevant to that month's trivia theme (like Deadpool for Marvel vs. DC).

Virtual Competitions
KnowBe4 has an intranet that we use to keep all of our employees connected from afar. You could think of this as something similar to a social media channel, but just for KnowBe4 employees. One of the big uses for our intranet is for the Fun and Shenanigans team to engage with all the Knowsters and bring some fun to their work. Contests hosted by the Fun and Shenanigans team are a common occurence on our intranet and have ranged from a "best meme" competition to something as simple as asking Knowsters to share their favorite "pump-up" music. On top of being a fun way to interact with fellow Knowsters, these competitions also give participants a chance to win awesome prizes!

Health And Wellness From Home
Our Fun and Shenanigans team has been doing a lot to keep everyone on track with their health goals such as sharing health tips, posting resources to help employees work more efficiently from home, holding fun contests, and hosting "Ask Me Anything" (AMA) sessions with local fitness and nutrition experts.
The contests are held through our employee intranet so everyone can participate at home (or wherever they are). Some health competitions are as simple as asking Knowsters to share home many ounces of water they drink during the week and selecting some random winners to give prizes to. This helps to give an extra fun incentive to staying healthy. Small health challenges like these happen all the time at KnowBe4, but there is one massive competition that draws a lot of attention - The Sizzlin' Summer Challenge. The Fun And Shenanigans team works with members of our Employee Relations team to host this competition every summer. To participate, Knowsters simply have to track their healthy decisions that they make throughout the day. At the end of the week, they submit a log of those decisions and a few photos and they earn points for their healthy decisions. They can earn up to three points a day for healthy food choices and up to 2 points a day for physical activity. At the end of the competition, Knowsters use their points to enter raffles for some big ticket prizes - Apple Airpods Pro, iPads, Fitbit Ionic Smart Watches, Ray-Ban Sunglasses, blenders, grills, pressure cookers, air fryers, and much more! How's that for motivation?

Two of our local personal trainers, Chris and Carmen from Sports Kicks Inc, and Derek, the owner of Market Meals, have been doing weekly virtual chats with the Knowsters. These three fitness and nutrition experts talk to the Knowsters about new subjects every week, including topics such as nutrition, carbs, proteins, eating schedules, exercise, ad more. They also leave time for the Knowsters to ask any questions they have about fitness and nutrition. Some Knowsters have credited the advice from these sessions with double digit weight loss over the past two months.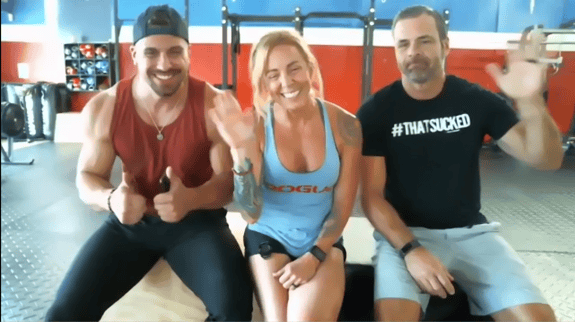 We have also brought all of our normal weekly classes, like yoga and boot camp, to our YouTube channel - KnowBe4 People. This way the Knowsters around the globe (as well as anyone with internet access) can go online and find resources to help stay happy and healthy while working from home.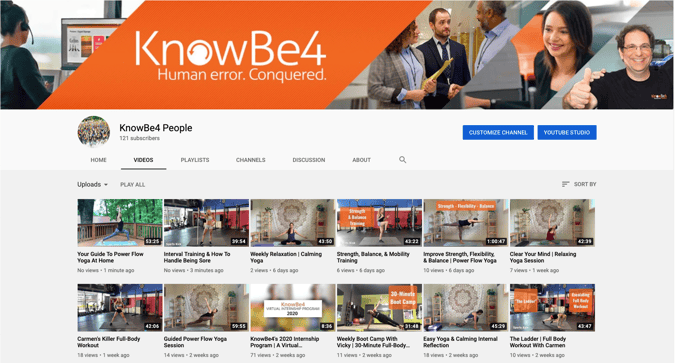 Extra Financial Support
Plus, since the start of the COVID-19 pandemic, employees have been getting an extra $50 per week to help everyone make it through these difficult times. The Knowsters have become accustomed to our awesome office environments with free snacks, coffee, tea, and entertainment, so this extra support helps to compensate them for the office perks they are missing out on while working from home. The day that Stu made that announcement in the company-wide virtual morning meeting, the chat blew up with comments from grateful employees.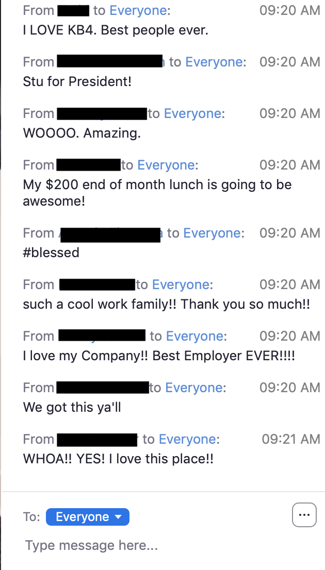 Even while working from home, there are a lot of fun perks about working at KnowBe4! No matter what happens, you can be assured the Knowsters will always do the job right, do the job fast, and have fun while they do it!