Erika Lance, our amazing Senior Vice President People Operations, headlined at the recent Radical CHRO Series, hosted by Tampa Bay Business & Wealth (TBBW) Magazine. This session in the series was titled "Stop assuming, start listening. If you want to understand what's really going on, try listening to your employees." The topic was picked personally by Erika, as it is a topic she feels many HR executives often overlook. While these panel discussions are normally only open to senior level HR leaders and C-level executives, Erika and TBBW decided to open this panel up to the public, so anyone could watch, participate, and hopefully take away some valuable insights.

Here are some of our favorite highlights from the panel.
Right out of the gate (2:15), Erika touches on why she feels this topic is so important to focus on. She also leads the discussion into a key point - listening to survey feedback. Many organizations run internal surveys to keep track of how employees are feeling and collect feedback. However, many organizations also fail to properly follow up on this feedback, which can be more detrimental than not collecting feedback in the first place. Erika says that if you get survey results from your employees, act on them - don't wait to implement changes.
At 22:48, the conversation then steers to Erika's thoughts on the biggest mistakes she think C-level executives can make, which many are making today. Erika says "I think what a lot of C-levels have gotten wrong is that they've forgotten the actual people that are the employees that they have. Every person has unique situations and although we have a bottom line, the first thing we have to remember is that these are actual people." Erika also discusses the reasons why CEOs and other C-level executives really need to listen to HR. At KnowBe4, our HR team is called People Operations for a reason; the team is there to take care of the people that make up KnowBe4, and to make sure company decisions are always doing what is best for our people.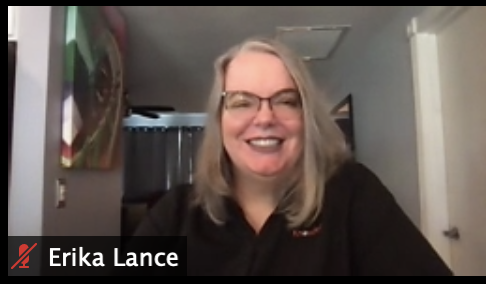 Erika's parting thoughts for this panel discussion (50:45) were, "Remember to care for every single employee, all of the great ones and the not so great ones - because we all do have those - but you have to care and have empathy for every single person and what their journey is. That's where you'll build a really strong company because it's a team. It really has to be a team from the very top of the organization to the very bottom and I don't care how big it is. Remember that the people are there and they have to be listened to."