For a lot of people, the New Year is a time for change; new diets, new exercises, and new jobs. If you're looking for a new job this year and considering KnowBe4 as an option, here is some advice from our VP of Expansion that should be helpful.

Your resume should focus on what you achieved, not what your daily tasks were. Your job title and your achievements will paint the picture of what your job duties were, but by focusing on achievements you can emphasize what level of skills you bring to the table. Did you surpass sales quota by at least 50% for 5 months in a row? Did you consistently deliver error-free code within your schedule? Did you manage 250 accounts with a 98% customer satisfaction rating? Recruiters will want to know about all of that! Quantify everything you did and show the value that you added to the organization. That will help you break through the clutter of other resumes.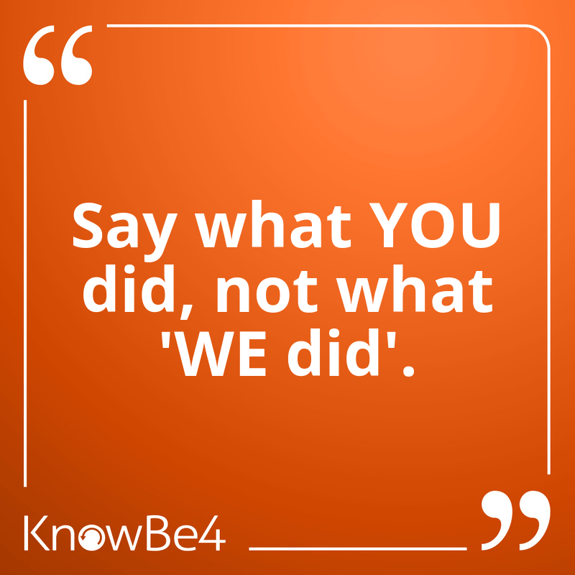 "Say what YOU did, not what WE did." This applies to both resumes and interviews. Showing your ability to work well as part of a team is great, but recruiters aren't going to be hiring your team; they'll be hiring you. Focus on your contributions to the company.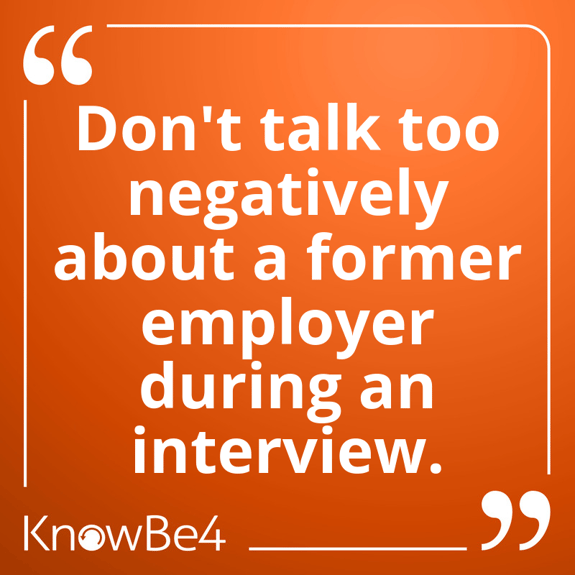 "Don't talk too negatively about a former employer during an interview." Sure, you can let the recruiters know why you are looking for a new position, but don't go on a tirade and attack every aspect of your previous employer. Let the recruiters know lessons you learned from your time working there and how you intend to apply those lessons in your new role. This will show that you aren't hyper-focused on the downside of everything and that you are able to learn something even from a bad experience; which goes right into our last piece of advice.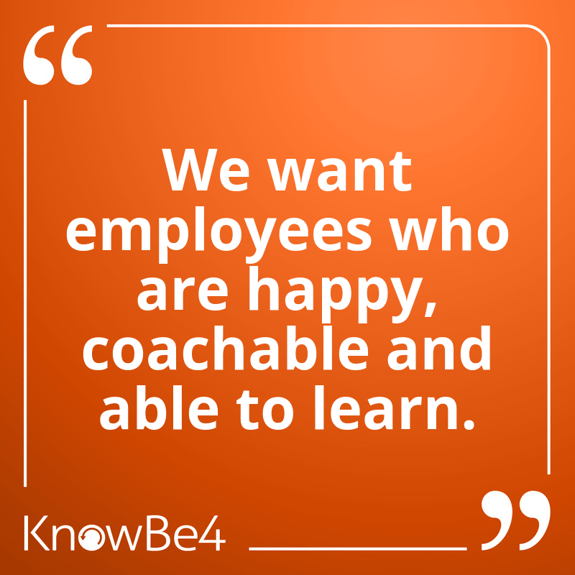 If you're looking for a job at KnowBe4, keep in mind that "we want employees who are happy, coachable and able to learn." There is an overwhelmingly positive energy that radiates throughout KnowBe4's offices. Our recruiters will be looking for people who fit well into the environment and add more positive energy to our culture. KnowBe4 also stresses internal growth. This fact is highlighted by the many resources we provide to our employees to encourage their continued education and professional growth including sales performance coaches, a career coach, a life coach, tuition reimbursement, certification reimbursement, and certification bonuses. Show the recruiters that you're willing to take feedback, grow, and learn; even if you're 20 years into your career, there is always something new that can be learned.