In honor of KnowBe4's 11th birthday, Knowsters around the world celebrated in an un-bee-lievable way! Every year, KnowBe4 honors its anniversary by making a lasting impact on our local community. This year's mission? Saving the bees by partnering with the Pinellas Beekeepers Association! Spearheaded by KnowBe4's Chief Human Resources Officer, Erika, and Director of Facility Services & Sustainability, Lael, this initiative successfully and safely created a home for over 220,000 bees! This year's anniversary festivities were held virtually in order to follow the COVID-19 guidelines, but the People Operations department still made employees truly feel special. From unique philanthropic efforts, and a special anniversary drive-thru held at our headquarters, let's check out how our Knowsters celebrated near and far! 🎉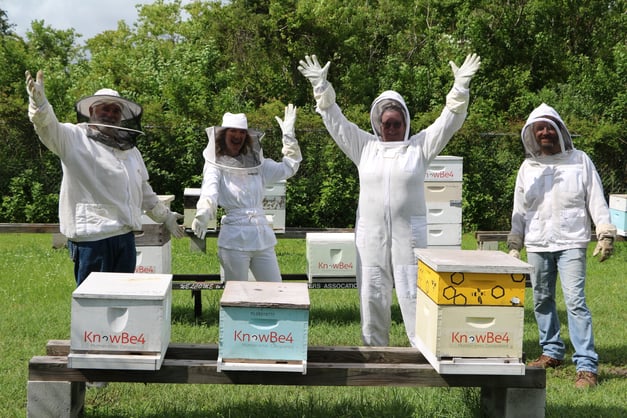 Philanthropic Celebrations
For its 11th anniversary, KnowBe4 sponsored 11 beehives, one for every year KnowBe4 has been in business. Each beehive houses about 20,000-35,000 honey bees. 🐝 KnowBe4's donation is ultimately adding between 220,000 and 385,000 bees to the planet! Why are bees so important in our environment? Honey bees perform about 80 percent of all pollination worldwide, including the pollination of fruits, nuts, and vegetables. 70 out of 100 human food crops, which supply about 90 percent of the world's nutrition, are also all pollinated by bees!
Lael says, "Being a part of a company that chooses to celebrate its anniversary by putting 11 new beehives into the world is pretty amazing. Bees contribute to the larger ecosystem by supporting the growth of plants and trees, which provide food, shelter, and oxygen for all. Bees are one of my very favorite creatures; it was both moving and humbling to spend time with our 11 hives. It is my hope that more companies and individuals will adopt, support, or keep hives. We can never have too many bees!"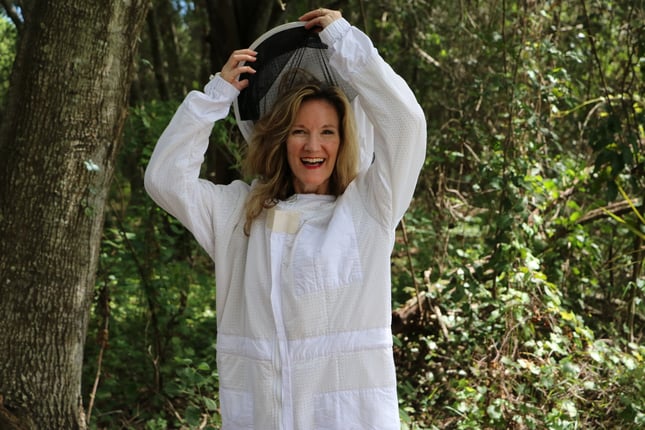 Headquarter Celebrations
In addition to the amazing efforts of bee preservation, our Fun & Shenanigans team set up a drive-thru for local Knowsters to partake in socially distanced celebrations! Each employee was given a new bee pin, an international T-shirt, and a delicious treat in honor of this special day.
International Celebrations
For our international Knowsters, virtual celebrations took place. In the Netherlands, employees were sent delicious cupcakes. Yum! Melanie, Netherlands Office Manager says, "I am the lucky one that helped for the second time to organize and to celebrate KnowBe4's Anniversary since working here. I am beyond grateful and proud to work for this amazing company and I feel privileged to help put a smile on everyone's face when they get the treats and swag delivered. I was overwhelmed by how happy they are. That's what I love the most about celebrating our anniversary!"
In Germany, Marina and other German Knowsters celebrated with balloons and cupcakes. What a great treat!
Our UK Knowsters were given anniversary swag which included two T-shirts, a hoodie, flag pins, and a special anniversary card!
In Brazil, Knowsters were given a fun "explosion box". When opened, the borders fall down and reveal a cupcake and brigadeiros, a traditional Brazilian sweet!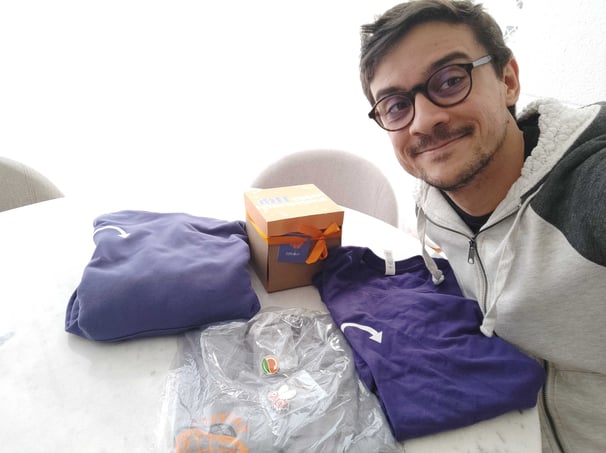 South African Knowsters celebrated the anniversary with individual cakes and a gift box of goodies including a hoodie and T-shirt!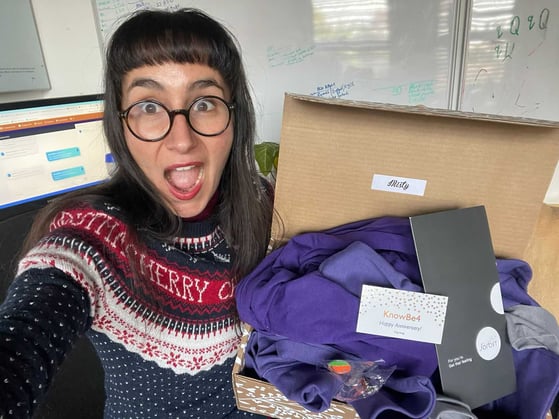 Our teams in the United Arab Emirates and Norway are currently on their summer vacations and will continue the celebrations upon their return. Our teams in Australia, Singapore, and Japan are celebrating together with virtual trivia and lunch vouchers for all employees!
From saving the bees to special virtual celebrations, KnowBe4's 11th birthday was one for the books! Cheers to 11 years, Knowsters! We can't wait to see what is in store for next year! 🐝 🎉