Wherever you are and however you celebrated this year, we truly hope you had happy holidays. At KnowBe4 we've been celebrating the holidays throughout the entire month, in a variety of ways across the globe. Keep reading to see what our offices around the world did for their celebrations.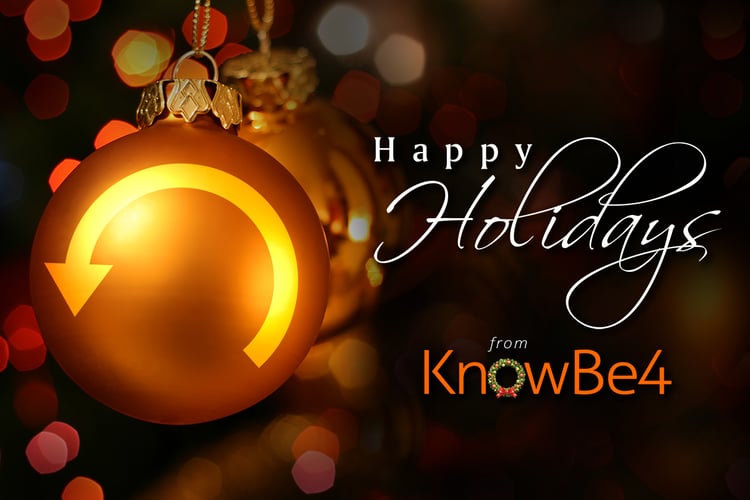 Global Fun For Everyone
With almost all of our Knowsters working remotely, a lot of our fun holiday activities were conducted virtually, so our team from around the world was able to join in all the celebrations. This month's virtual trivia theme was was holiday movies and included Elf, National Lampoon's Christmas Vacation, Home Alone, Die Hard, and The Nightmare Before Christmas. We held holiday baking competitions, even though, sadly, we couldn't taste all the amazing treats. We had a PJ day, a holiday scavenger hunt, a gift wrapping competition, made fun crafts, and had an ugly sweater competition.


Plus, every Knowster around the world received their extra special holiday gift - a KnowBe4 branded jacket from The North Face.

Celebrations In The US
All the local US employees were able to drive by our headquarters in Clearwater, Florida to pick up their awesome new jackets and get some other special treats like hot chocolate and warm apple cider.

Like every year, our generous team of Knowsters was dedicated to helping hundreds of local children have an amazing holiday by donating gifts. This year, it felt even more important than ever to give back, so we partnered with Empath Partners In Care to help spread some holiday cheer to 159 children in need through their Angel Tree program.

Celebrations In Brazil
We also had a holiday gift pick up in our Brazil office; in addition to the new KB4 jackets, everyone got a panettone - a sweet bread traditional to Brazil during the holidays. The team also got together for a special end-of-year shout-out meeting over Zoom. In this video call, everyone spent time reminiscing on 2020, congratulating each other on accomplishments, and thanking each other for for the help and support received throughout a strange and complicated year for the world.

Celebrations In The UK
In the UK we had a gift pickup so Knowsters could stop by the office to get their holiday presents, grab some food from Plenty Cafe and have a cup of mulled wine or hot chocolate. ​After receiving their cool new jackets, our UK Knowsters were also treated to a holiday gift package full of chocolate, chocolate, and more chocolate. The team then wrapped up the weekly 2020 Zoom Happy Hours with one last video call to welcome in the holiday season.

Celebrations In The Netherlands
In the Netherlands, our Knowsters celebrated Sinterklaas in a very traditional Dutch way, with a Secret Sinterklaas poem exchange. Everyone even read their gifted poems aloud and tried to guess who wrote theirs! They also had their holiday gifts dropped off directly to their homes with wine and chocolates for everyone.

Celebrations In Germany
In Germany, all our local Knowsters got to pick up their holiday gifts (the awesome KnowBe4 jackets from The North Face), along with local treats like Chocolate Santas and Lebkuchen (a delicious holiday tradition in Germany).

Celebrations In The United Arab Emirates
Our newest office, in Dubai, celebrated by going out to a beautiful holiday dinner at a local Moroccan Restaurant named Bab Al Mansour. Their gift packages included the jacket, plus some other fun KnowBe4 swag, and some delicious dutch chocolates.

Celebrations In South Africa
In our South African office, holiday decorations went up and our holiday gifts were sent out to everyone. Along with the jacket came a special "Reindeer Smash Heart'' which is a delicious chocolate heart that can be smashed open to get to all the special goodies inside!

Celebrations In Australia
In Australia, where COVID-19 cases are substantially lower than many other countries, our team was able to get together for an end-of-year dinner to celebrate! In addition to their new jackets, local team members also received local treats, cookies, and wine.

Celebrations In Singapore
In Singapore, another country with minimal COVID-19 cases, our team got their gifts in the office. The team also took a scenic scooter tour around the city and stopped for an amazing dinner to celebrate the holidays and the end of the year.

Celebrations In Japan
Our team in Japan went out for a special dinner with beautiful views of Tokyo and they even wore their new KnowBe4 gear!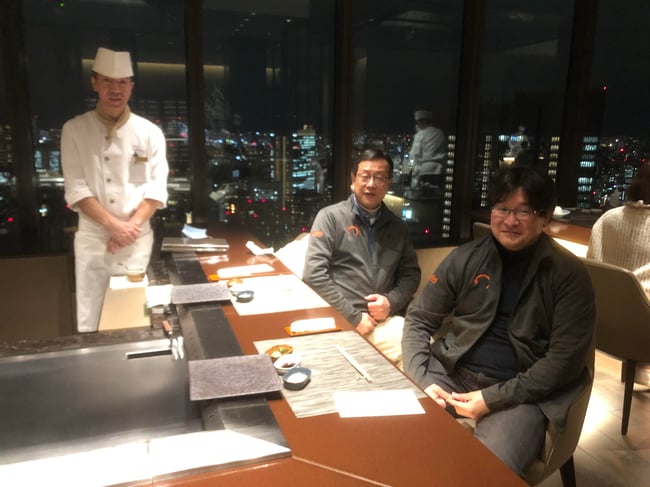 With so many offices around the world, every office does something a little bit different for the holidays. Each celebration is a unique blend of KnowBe4's company culture and each country's culture. As our international offices continue to grow, so do their celebrations! If you're ready to join the fun then apply today!