KnowBe4 has always had a fun and unique onboarding process, and we still do! We've just made some changes to the onboarding process to adjust for the circumstances we find ourselves in today with the COVID-19 pandemic still ongoing. For now, our entire onboarding experience has gone digital, along with the rest of the hiring and training process.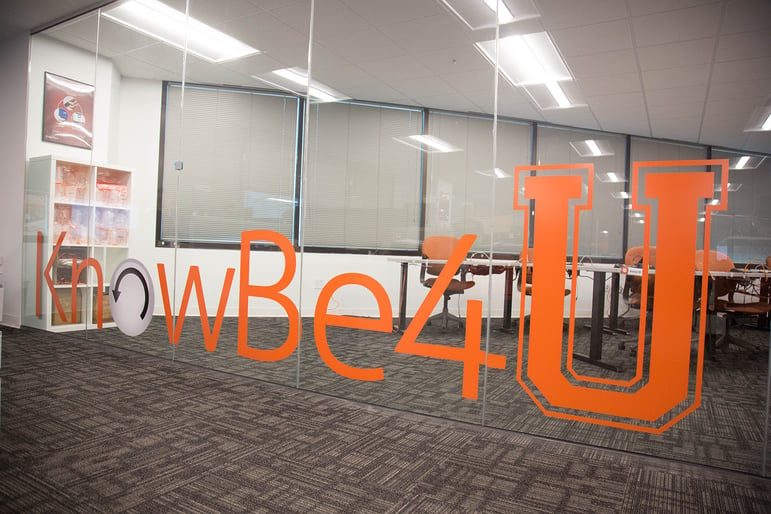 It all begins a week before the new employees start. All employees are mailed a package containing their laptop and any other tools they need to work from home, along with detailed instructions from our IT team on how to set everything up. They also receive their first email from our incredible Onboarding Team, explaining everything they need to know about starting at KnowBe4.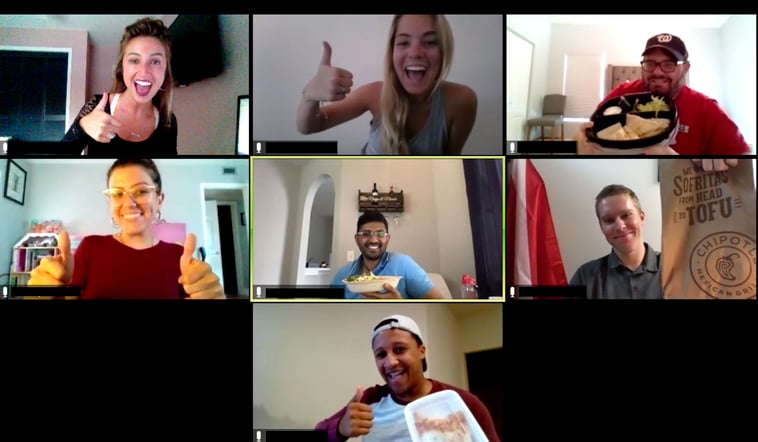 On day one, when a group of new hires all officially start working at KnowBe4, the Onboarding and Benefits teams meet with everyone via web conference to get all the paperwork and formalities taken care of. Afterward, it's time for our CEO Stu's daily company-wide morning meeting - the first morning meeting of the many that the new hires will experience. Then it's time to get into some fun.
The Onboarding Team does icebreakers with the new hires to get everyone comfortable. Games include "Guess Who", with questions that were sent in by the new hires earlier, and a scavenger hunt around their own homes to spell out "KB4" with nearby items. Day one is also the day that new hires virtually meet their managers. The Onboarding Team helps facilitate these meetings and makes sure the new hires get all the information they need about their new teams, what training/shadowing will look like from home, and what options are available for flex scheduling.
Day two is spent mostly with the training team, and the Onboarding Team meets with the new hires again to help them plan out their new hire photo. This is an important and competitive process which will be used to help introduce all the new hires to the company. The best new hire photos get highlighted on the "Knowsters Wall Of Fame" in the training room.

On day three of training, the Onboarding Team usually takes the new hires out to a free lunch at Clear Sky, a local restaurant two blocks away from KnowBe4 in downtown Clearwater. While we continue to do virtual onboarding, we are instead paying for all the new hires to order lunch for delivery to their house (using Uber Eats, GrubHub, or whatever else they want).

Day four is time for Jeopardy! This is a fun way for our Onboarding Team to make sure all the new hires are ready to test out of training and move to their teams.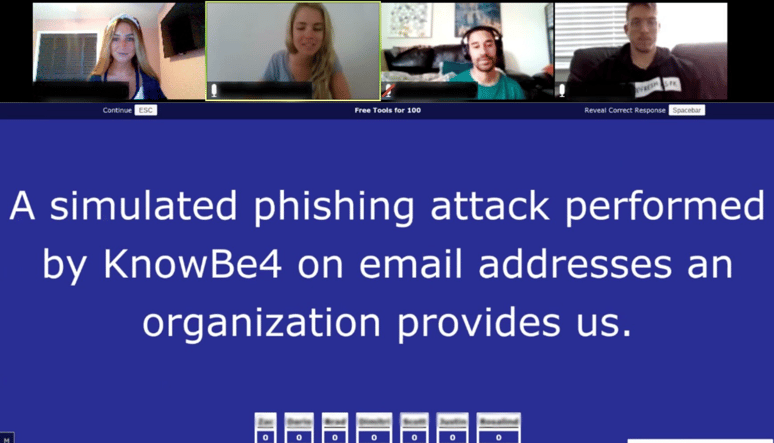 After a new hire has successfully tested out of training, it has become a tradition for the Onboarding Team to sing them (or in this case send them) this quick song.
All new hires also receive their swag bags once they finish training! Employees who started after we began remote work will receive their swag bags after we all return to the office. The bag contains some fun KnowBe4 branded gear, as well as two KnowBe4 essentials - their purple shirt, which almost all Knowster wear on the last day of the month and their KnowBe4 flag, which all Knowters display on their desks with pride.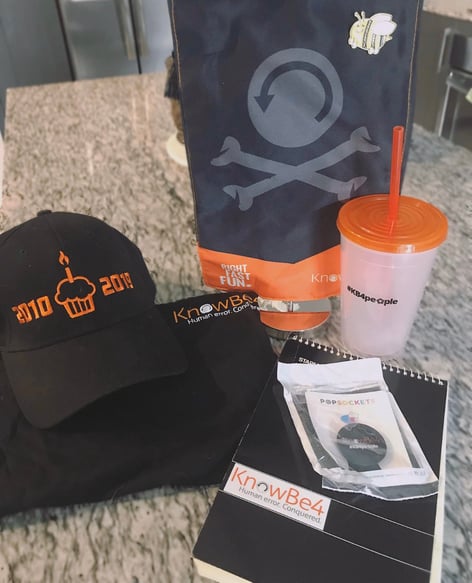 Once we return to the office we will also take all employees who were onboarded virtually for a scavenger hunt through the office and then out for coffee, which is normally done on day one of onboarding.
The onboarding process is a great way to welcome all our new hires to the company, get them acclimated to our company culture, and make sure they are set up for success at KnowBe4. The quick reaction of the Onboarding Team to take the entire onboarding process virtual is another fantastic example of KnowBe4's three rules: do it right the first time; do it fast; have fun while you do it.