36 interns successfully graduated from our amazing 2021 summer internship program! In order to ensure the safety of our interns, this year's program was conducted virtually and all interns worked remotely. For 12 weeks, interns worked on a project-based program that started in the middle of May and lasted until the beginning of August. From virtual games and coffee meet-ups to training and development sessions and projects, let's take a look back at the amazing experiences our interns had this summer.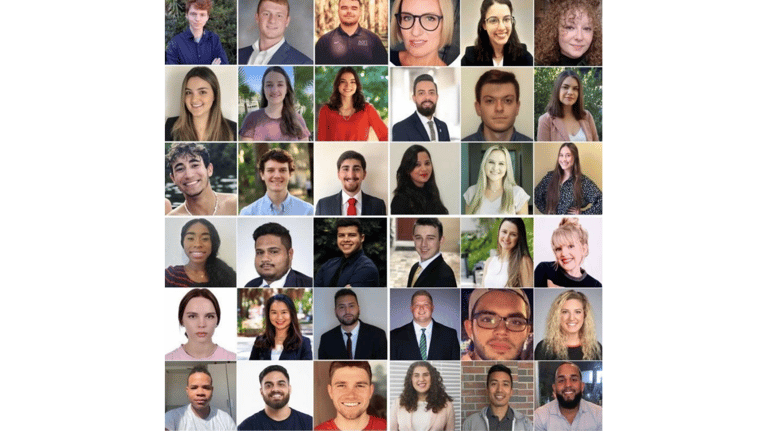 Onboarding
Our interns were given the same fun and unique onboarding experience that all of our new hires receive. During onboarding, the interns started by participating in icebreakers to get comfortable with one another as well as the internship team. During a virtual scavenger hunt, the interns met top leaders in the company, learned about their areas, and some fun facts about each of these leaders. Interns were also treated to a free lunch of their choosing, delivered to their homes. Overall, the onboarding process welcomes all new hires by getting them acclimated to KnowBe4's company culture and makes sure they are set up for success!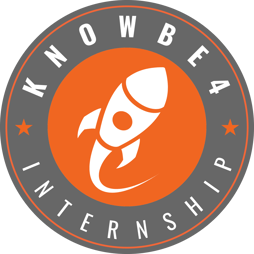 Professional Development Sessions
After the onboarding process, the interns joined their teams and started working directly with their individual managers, who provided training, guidance, and mentorship to the interns. To continue bridging the gap between education and professional experience, all interns participated in three professional development sessions. The first session was with Erika, our Chief Human Resources Officer, which helped the interns evaluate and identify the traits that they value in a future workplace. Next, the interns met with our Global Talent Outreach Manager, Alyssa, who taught the interns essential skills for perfecting their LinkedIn profiles and resumes as well as how to brand themselves to employers. For the third professional development session, interns met with Career Dave and learned about career intentionality; how to navigate their career journey by thinking about what motivates them!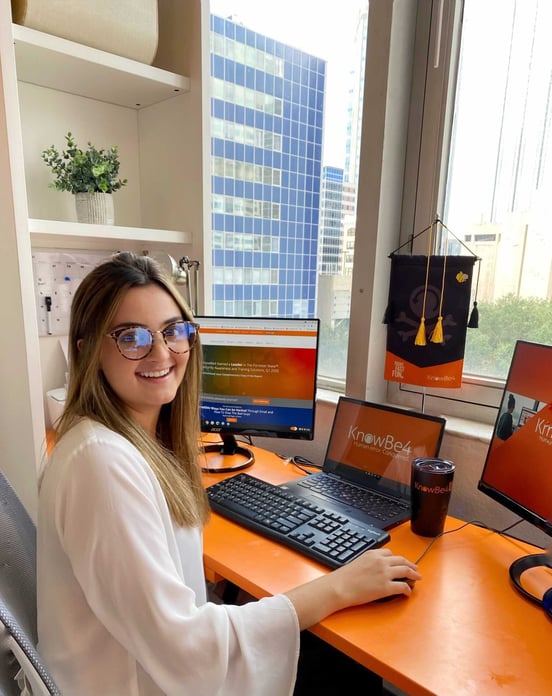 Ask Me Anything Sessions
In addition to the professional development sessions, the interns participated in "Ask Me Anything" (AMA) sessions with seven senior leaders from KnowBe4. The first session was with KnowBe4's founder and CEO, Stu Sjouwerman, as well as our Chief of Staff. Throughout the rest of the AMA sessions, the interns met with KnowBe4's Chief Revenue Officer, Chief Product Officer/Chief Cloud Officer, Chief Financial Officer, Chief Human Resources Officer, and the SVP Global Talent.
During the AMA sessions, interns asked senior leaders anything they wanted, including questions about success, leadership, career advice, how to get a permanent position at KnowBe4, and personal questions. As always, the senior leaders were completely transparent with the interns while providing them with crucial life lessons and funny stories.
Interns also met with our InfoSec team and heard from our Chief Information Security Officer, Brian, during a "Get To Know InfoSec" session, where they learned more about our industry of Information Security and the team that keeps our organization safe.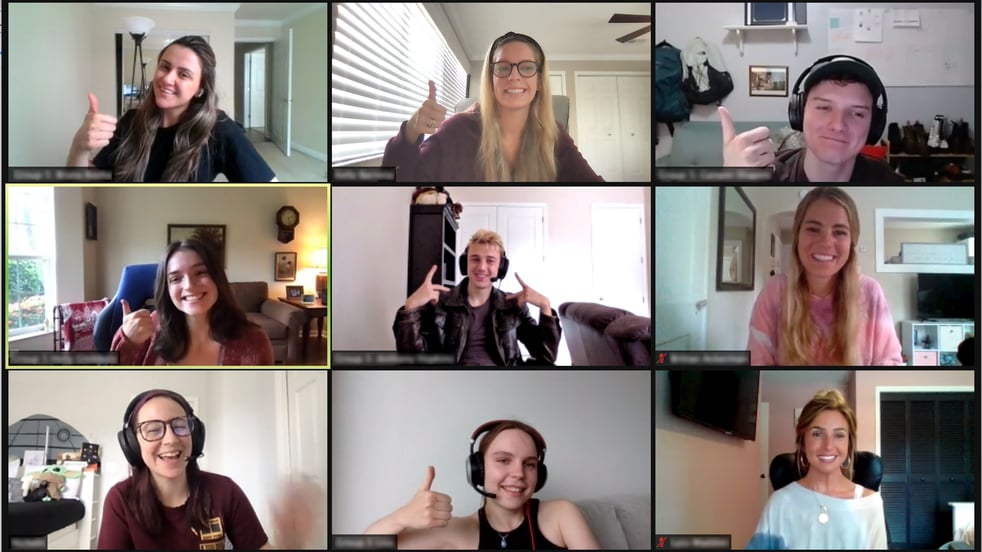 Team Building Activities
Although this year's program was virtual, it was still packed with fun team-building activities for all the interns! Every Friday, interns participated in the weekly "Coffee Corner", which was set up as a virtual break room where the interns could bond. KnowBe4 purchased each intern's beverage of choice while they shared stories and played fun competitions with the internship team, including the embarrassing stories game and a pudding-making competition. One day, we even had a comedian join the interns for Coffee Corner! The winners of the competitions received Amazon gift cards. Suyog, Data Quality Associate Intern, says, "The weekly coffee corners coupled with fun games made the internship such a unique experience!"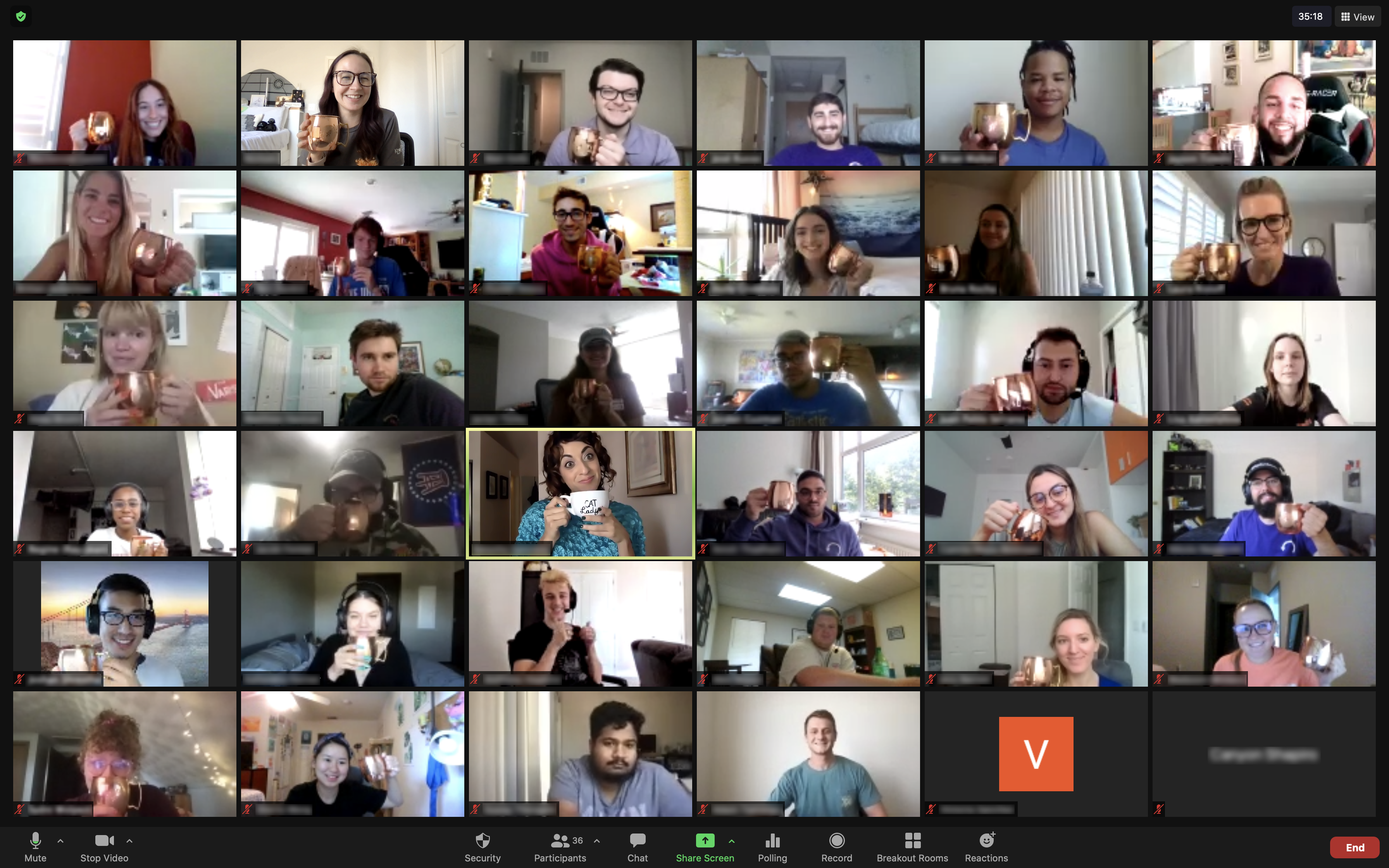 The interns also participated in several larger team-building events. The first two events were centered around games designed to help the interns get to know each other, such as "Two Truths and a Lie" and a baby photo guessing game. The interns also worked together to create the space-themed design for their internship T-shirts. Holly, our Visual Content Intern who returned to intern with us for her second summer, illustrated the T-shirt design last year and also illustrated it again this summer! Another fun team-building event was virtual trivia! Interns teamed up and worked together to answer questions. Abby, Technical Writing Intern, says, "One of my favorite memories was the virtual trivia team-building event. Interns were split up into groups and had to race the clock to answer as many trivia questions as possible in less than an hour. I loved getting to compete with a team of interns from a variety of departments. We all had different skill sets and areas of expertise!"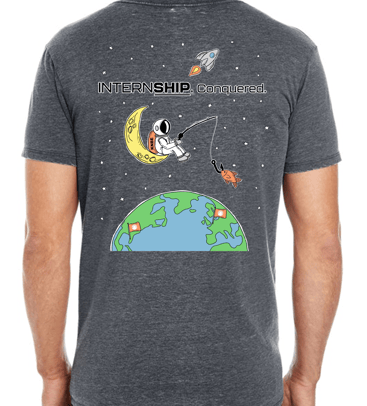 Interns also had a movie day where they watched Shrek together, virtually. A movie gift basket with six different types of yummy popcorn was delivered to their houses. After the movie, the interns played trivia together.
All interns also participated in the Intern/Manager Social, which was a virtual escape room event with the interns' managers. The interns and managers worked together in teams to guide a person through an escape room using live video chat.
Swag and Gifts
Swag and gifts were a fun part of the internship program! After their first week of training, interns received two classic KnowBe4 shirts, a custom mouse pad, a KnowBe4 tumbler, a stainless steel cup, a pop socket, a KnowBe4 pen, and an umbrella.
Throughout the program, the interns received several gift packages from KnowBe4, such as movie-themed treats for the virtual watch party, and mocktails for the virtual comedy show with a local comedian. On National Intern Day, interns celebrated with sweet treats and a cake from "The Milk Bar". Upon graduation from KnowBe4's internship program, the interns received even more swag! Their final gifts included a KnowBe4 champagne glass and sparkling grape juice to toast to the internship graduation, a branded Northface backpack, a portable cooler, a branded water bottle, an Amazon Echo Dot, a wireless charging pad, boozy popcorn, a leather keychain, an internship graduation pin and the internship T-shirt they designed as a group.
Internship Graduation
The culminating event of the internship was the internship graduation party. During this event, all the interns and their managers watched as each intern presented an important project they accomplished during their internship and what they learned at KnowBe4. The Courseware Intern learned how KnowBe4 builds courses using HTML, CSS, and Pug.js and worked with all of KnowBe4's content publishers to update storyline courses to our proprietary course builder. Our interns provided incredible value to KnowBe4 and were visible to our customers around the world. The presentations at the internship graduation gave all the interns a chance to demonstrate the value they added to KnowBe4 in front of their peers and KnowBe4's senior leaders.
After the presentations, the interns and their managers gave shoutouts to whomever they wanted. This was a time to publicly acknowledge the hard work done by everyone involved in the internship program. KnowBe4 also paid for the interns to order food and eat lunch during a video call with their managers, to give them more time to interact and bond. Afterward, the interns and the internship team wished each other luck and said farewell. Whether the interns continue on to work at KnowBe4 full-time, return to school, or move on to pursue other opportunities, we strive to make our internship program an experience that will positively impact every intern and help them find success in their careers!
Jacob, Software Engineer in Test Intern, says, "The KnowBe4 internship is an awesome experience, giving you real industry experience alongside great Knowsters. I would recommend everyone to pursue this internship program; you never know what opportunities it could unlock."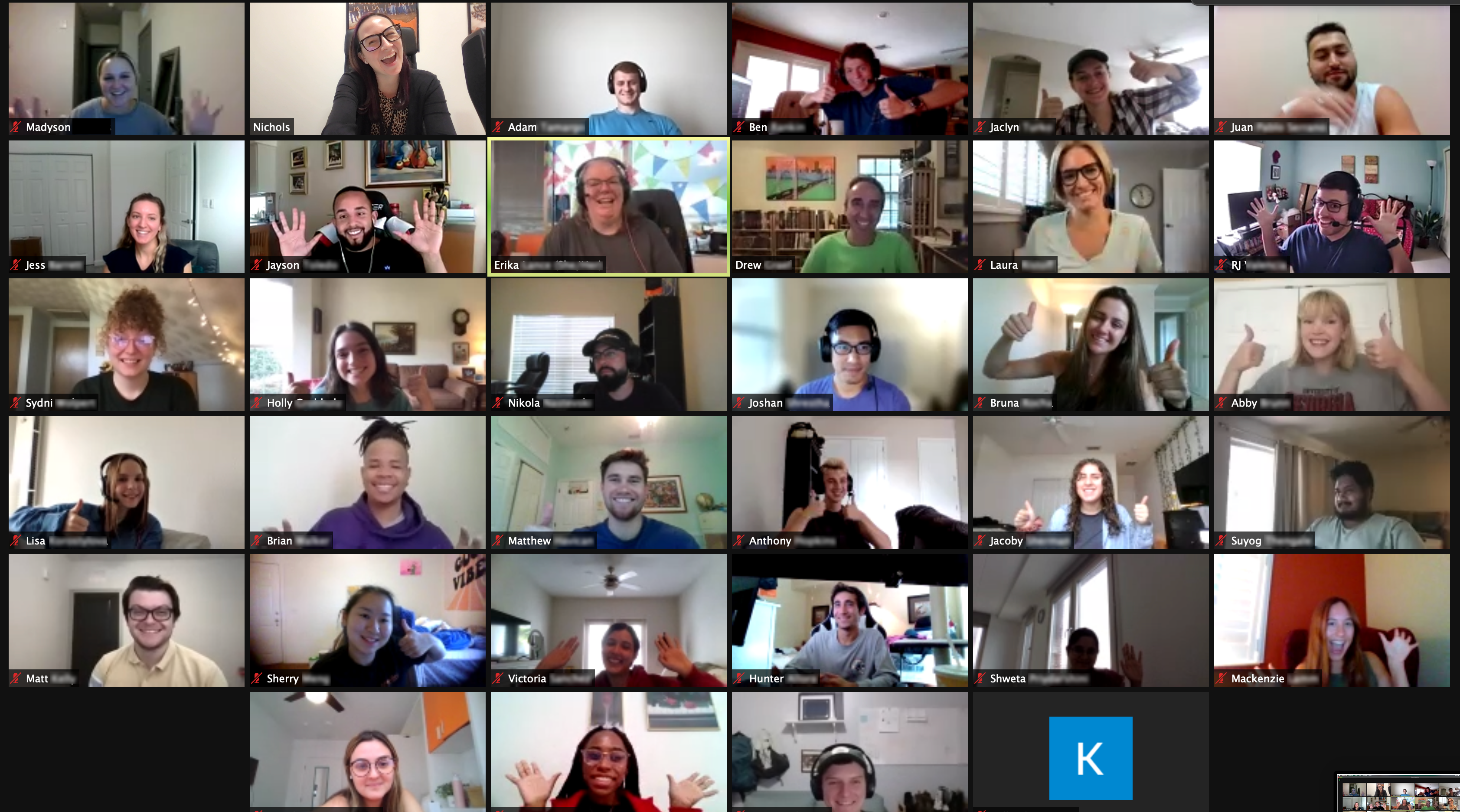 Applications for the 2022 internship program open in the fall of 2021! Subscribe to this blog and follow @KB4People on Facebook, Instagram, and Twitter for updates.