As the COVID-19 pandemic first started to affect America, Kelly, the Internship Program Director at KnowBe4, started making plans to take our 2020 summer internship program virtual. At first, making an entirely remote internship program as fun, challenging, and educational as our previous programs seemed like a daunting task, but the team in charge of the program (Kelly, Lyss and Brittan) pulled it off! Here is a look back at the amazing experiences our interns had this summer.

ONBOARDING
Our interns were given the same fun and unique onboarding experience that all of our new hires receive. During onboarding, the interns started by participating in icebreakers to get comfortable with one another as well as their program coordinators. During a virtual scavenger hunt, the interns met top leaders in the company, learned about their areas, and learned some fun facts about each of these leaders. The interns were also treated to a free lunch where they were allowed to order whatever food they wanted for delivery to their houses. They spent the first week of the program in training, where they were introduced to KnowBe4's corporate culture, policies, acronyms, and anything else the interns needed to know in order to be successful in their internships.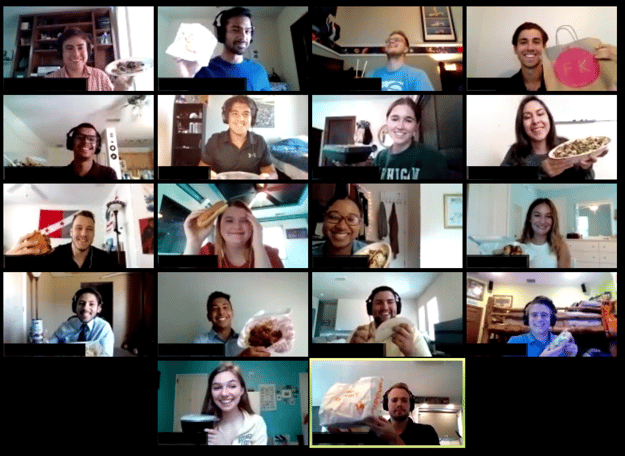 PROFESSIONAL DEVELOPMENT SESSIONS
After the onboarding process, the interns joined their teams and started working directly with their individual managers, who provided training, guidance, and mentorship to the interns. In addition to the guidance received from managers, the interns also had one-on-one meetings with KnowBe4's Director of Career Development, who helped each intern plan for their future after college. To continue bridging the gap between education and professional experience, all interns participated in two professional development sessions. The first session was with Erika, KnowBe4's Senior Vice President of People Operations, and was meant to help each of the interns evaluate organizations and identify the traits that they value in a future workplace. The second session, led by Kelly, KnowBe4's Director of Talent Outreach, who is also KnowBe4's Internship Program Director, taught the interns essential skills for perfecting their LinkedIn profiles and resumes as well as how to brand themselves to employers.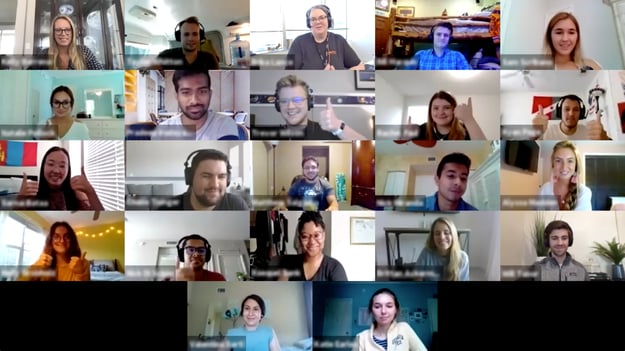 ASK ME ANYTHING SESSIONS
In addition to the professional development sessions, the interns participated in "Ask Me Anything" (AMA) sessions with 7 senior leaders from KnowBe4. The first session was with KnowBe4's founder and CEO, Stu Sjouwerman, as well as our Chief of Staff. Through the rest of the AMA sessions, the interns met with KnowBe4's Chief Revenue Officer, Chief Product Officer/Chief Cloud Officer, Chief Financial Officer, Senior Vice President of People Operations, and Vice President of Expansion. During the AMA sessions, the interns got to ask these senior leaders anything they wanted, including questions about success, leadership, career advice, how to get a permanent position at KnowBe4, and personal questions. As always, the senior leaders were completely transparent with the interns while providing them with crucial life lessons and funny stories.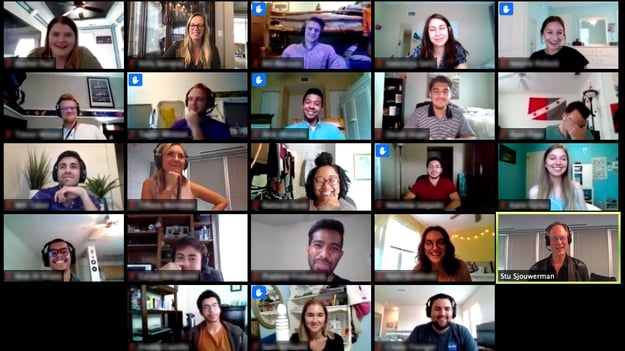 TEAM-BUILDING ACTIVITIES
Even though this year's program was virtual, we still packed it full of fun team-building activities for all the interns! Every Friday, they participated in the "Coffee Corner", which was set up as a virtual break room where the interns could bond. KnowBe4 paid for them to order whatever beverage they wanted, while they chatted, shared stories, and played fun competitions with each other and our intern program managers, such as the deserted island game and a pudding making competition just to name a couple. The winners of competitions even received gift cards to the store/service of their choice, such as Amazon, Netflix, Uber Eats, or whatever else they wanted.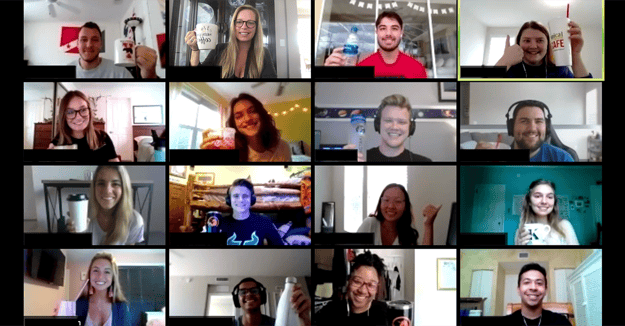 The interns also participated in several larger team-building events. The first two events were centered around games designed to help the interns get to know each other, such as "Two Truths and a Lie" and a baby photo guessing game. In another team-building activity, the interns worked together to create the design for their internship t-shirts. Their fun design incorporated some of the most prominent aspects of this summer - social distancing, virtual meetings, and the KnowBe4 Unicorn.
| | |
| --- | --- |
| | |

They also had a virtual watch party; a movie gift basket with yummy snacks was delivered to their houses, they all watched "Ferris Bueller's Day Off" together, and afterward, they played trivia based on the movie. The next big team-building event was a virtual escape room, where the interns and program managers worked together in teams to guide a person through an escape room using live video chat. The fifth team-building activity was a game to see how well the interns had gotten to know each other. They listened to fun facts from a random intern, all of which were written down at the start of the internship, and then tried to match the fun facts with the interns who wrote them. The final large team activity was a special social event with the interns' managers and many of the other employees the interns worked with throughout the program. For this event, the interns worked in small groups with their managers and coworkers to solve a digital murder mystery. The company also paid for the interns to order food and eat lunch during a video call with their managers, to give them more time to interact and bond.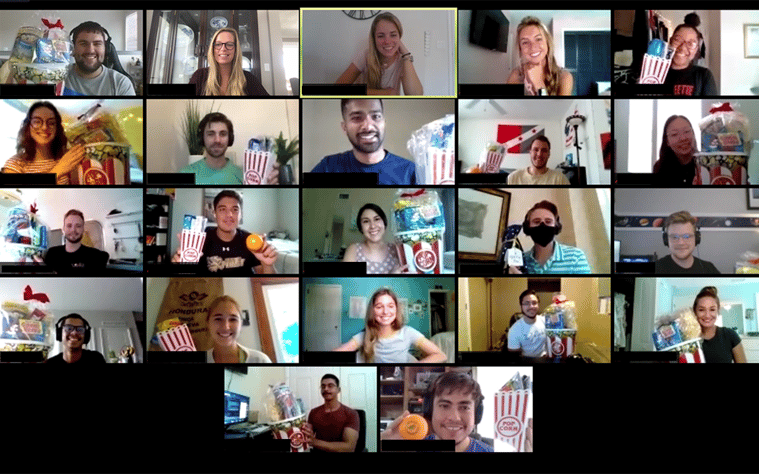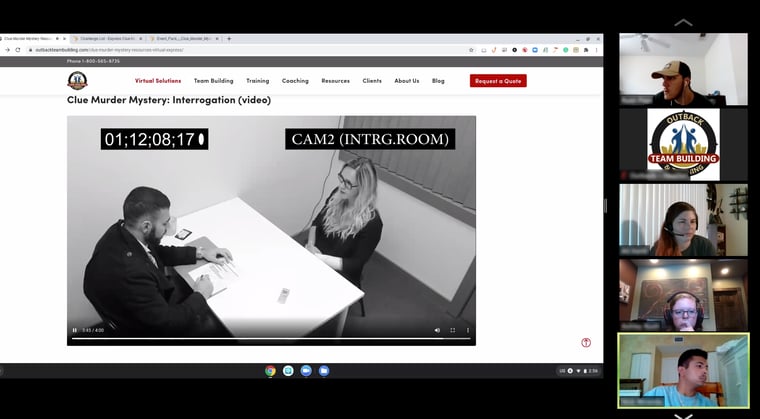 SWAG AND GIFTS
Knowsters love their KnowBe4 swag, so of course, we made sure to give the interns lots of swag and gifts too! After graduating from their first week of training, interns received their two classic KnowBe4 shirts, as well as a KnowBe4 branded hat, cup, popsocket, and notebook. Throughout the program, the interns received several gift packages from KnowBe4, such as movie-themed treats for their virtual watch party and sweet treats and a cake from "The Milk Bar" to celebrate National Intern Day. For their graduation from KnowBe4's internship program, the interns got even more swag! Their final gifts included a KnowBe4 branded backpack, an Amazon Fire tablet, high-quality headphones, a hat, a speaker, a power bank/charger, a key chain, and the internship t-shirt they designed as a group.

INTERNSHIP GRADUATION
The culminating event of the internship was the internship graduation party. During this event, all the interns and their managers got together and watched as each intern briefly presented on an important project they accomplished during their internship and what they learned. KnowBe4 puts major emphasis on ensuring our internship program was a learning experience for all our interns! That is why we focused on creating project-based internships. Instead of filling papers and getting coffee, KnowBe4's interns worked on important projects for their departments. For example, our courseware intern learned how KnowBe4 builds courses using HTML, CSS, and Pug.js and worked with all of KnowBe4's content publishers to update storyline courses to our proprietary course builder. The work the intern did provided measurable value to KnowBe4 and is visible to our customers around the world. The presentations at the internship graduation gave all the interns a chance to demonstrate the value they added to KnowBe4 in front of their peers and KnowBe4's senior leaders.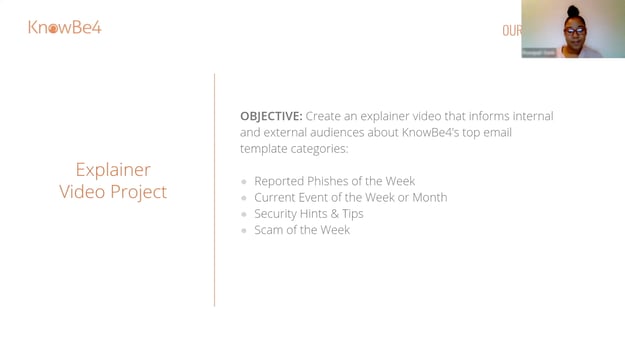 After the presentations, the interns and their managers got time to give shoutouts to whomever they wanted. This was a time to publicly acknowledge the hard work done by everyone involved in the internship program - the recruiters who hired the interns, the program managers, the intern managers, and the interns themselves. At the end of the graduation, all the interns received gift cards for their new Amazon Fire tablets so they could buy some of Stu's recommended books and continue their learning and development. Then the interns and the program managers wished each other luck and said farewell.

Whether the interns continued on to work at KnowBe4 full time, returned to school, or moved on to pursue other opportunities, we hope our internship program has been an experience that has positively impacted every intern and helped them find success in their careers!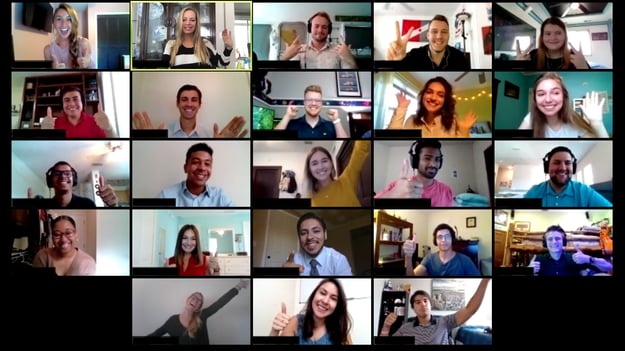 Applications for the 2021 internship program open in the fall of 2020! Be sure to subscribe to this blog and follow @KB4People on social media for updates.