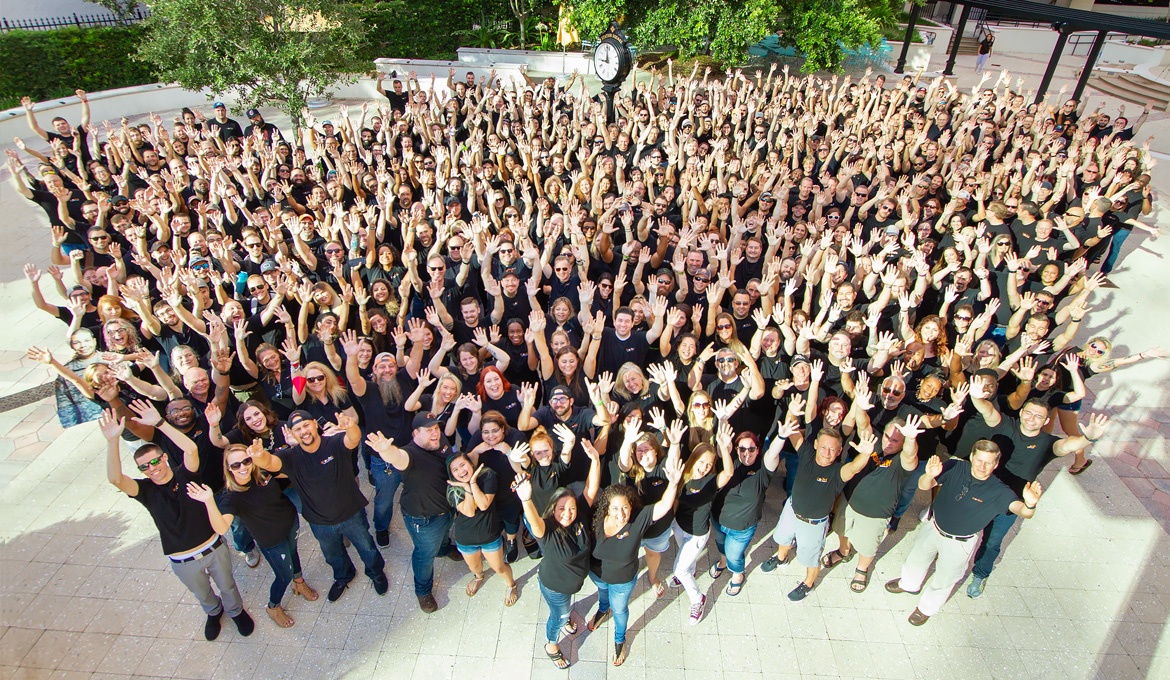 "You could spend a fortune purchasing technology and services, and your network infrastructure could still remain vulnerable to old-fashioned manipulation."
— Kevin Mitnick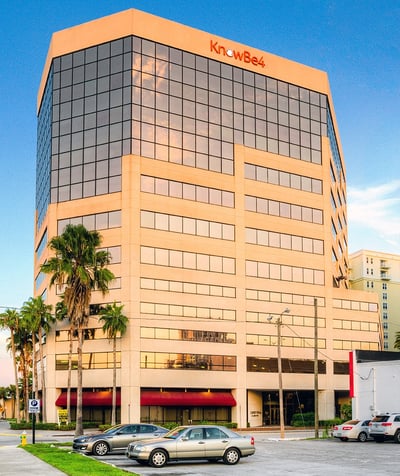 KnowBe4 Mission
KnowBe4 enables your employees to make smarter security decisions, every day.
KnowBe4 Philosophy
We are happy to go against the grain.
We're not a company that turns out bloatware year after year.
We don't work with only the bottom line in mind.
And we feel fine with all that.
We're a team of free-thinking techies, who look at IT security issues a little differently.
Where other IT security companies may value profits, we value, well…security.
We are not in the pocket of any of the large players.
We answer to no one but IT admins in the trenches.
Our rules are: "Do it right the first time, do it fast, and have fun while you do it".
We work like that, because we think it's the only way to go.
We believe that only with community can you effectively secure your domains.
We believe that as IT Admins we need to hang together, because if we don't we will hang alone.
We're not just a different kind of security company, we are a security company that together with you, makes a difference.
KnowBe4 In 30 Seconds
We are a leader in the Gartner Magic Quadrant and the fastest-growing vendor in this space.

KnowBe4 is the world's largest security awareness training and simulated phishing platform that helps you manage the ongoing problem of social engineering.

The KnowBe4 platform is user-friendly and intuitive. It was built to scale for busy IT pros that have 16 other fires to put out. Our goal was to design the most powerful, yet easy-to-use platform available.

Customers of all sizes can get the KnowBe4 platform deployed into production twice as fast as our competitors. Our Customer Success team gets you going in no time, without the need for consulting hours.


"The adage is true that the security systems have to win every time, the attacker only has to win once."

— Dustin Dykes.
KnowBe4 About Us Video
Old-school awareness training does not hack it anymore
Your email filters have an average 10.5% failure rate, you need a strong human firewall as your last line of defense.
KnowBe4 is your platform for new-school security awareness training. We help you keep your users on their toes with security top of mind. With this new-school integrated platform you can train and phish your users, see their Phish-prone percentage™ improve over time and get measurable results.
You get on-demand, interactive, engaging training through the browser combined with unlimited simulated social engineering attacks through email, phone and text.
Your KnowBe4 subscription gives you access to the world's largest security awareness training library with always-fresh content.
You can choose from dozens of categories with thousands of real-world, known-to-work phishing templates in 24 languages.
With our platform you can use unique features like the Smart Groups for ad-hoc reporting, our Automated Security Awareness Program to create your fully mature, customized program, and the powerful Active Directory Integration for easy and fast user management.
KnowBe4 is a great way to manage the ongoing problem of social engineering.
Find out how affordable this is for your organization and be pleasantly surprised.
Awards Showcase
• Inc. 500 #96
• Fortune Magazine 100 Best Places to Work for Millennials #60
• Cybersecurity Ventures Cybersecurity 500 #2
• Tampa Bay Business Journal - Fast 50 #2
• Tampa Bay Business Journal Best Place to Work (Extra Large Category)
• JMP Super 70
• Business Observer Top 500 #141
• 2017 North American Cybersecurity Awareness and Training Platform Customer Value Leadership Award
• Gartner Security Awareness Training – 2017 Leadership placement in Magic Quadrant
• Inc. 500 #231
• Deloitte Technology Fast 500 #70
• Cybersecurity Ventures Cybersecurity 500 #6
• Tampa Bay Business Journal – Fast 50 #3
• Tampa Bay Times – Best Place to Work in Tampa Bay
• Tampa Bay Business Journal Best Place to Work – (Nearly big 100+) and Best Overall
• CEO Stu Sjouwerman EY Entrepreneur of the Year Finalist
• #3 Ranked of the 153 Best Company Cultures in America 2017 Entrepreneur magazine (Nearly big 100+)
• Gold Winner, Security Training and Educational Programs from Info Security Products Guide
• Silver Winner, Fastest Growing Security Company of the Year from Info Security Products Guide
• Gartner Security Awareness Training – 2016 Challenger placement in Magic Quadrant
• Inc. 500 #139
• Deloitte Technology Fast 500 #50
• Cybersecurity Ventures Cybersecurity 500 #220
• Tampa Bay Times Best Place to Work – Small companies 50-149 employees
• Black Book Highest Ranked Vendor Security Related Training Programs (given at InfoSec 2016)
• Gartner Security Awareness Training – 2015 Niche placement in Magic Quadrant
KnowBe4 Infrastructure Security
KnowBe4 is an IT security company, so our infrastructure was built from the ground up to have a secure, and fault-tolerant cloud-based infrastructure. KnowBe4 was PCI compliant from day one.
Our Development Group consists of software engineers that have 10+ years of experience in creating secure applications.
Our servers are hardened Linux machines, any critical connections all use secure sockets layer.
The databases are backed up daily.
We do not store passwords in plain-text, we use a one-way salted, peppered and 10x encrypted hash mechanism, in which passwords cannot be retrieved even if we want to.
Regarding the Phishing Security Tests, the data we store consists only of email addresses, and what this address has clicked on. No other data gets stored, and KnowBe4 has done everything to be secure, scalable and reliable.
Regarding the Vishing Security Tests, the data we store consists of the user's name and phone number, and if they entered any information on their phone. No confidential data gets stored or reported.
As the phishing tests only use standard email/web protocols, and do not include any actual malware, KnowBe4 phishing tests will not introduce any vulnerabilities into your systems.
Note: our infrastructure runs on the Amazon Web Services (AWS) cloud which has the following certifications:
"AWS has achieved ISO 27001 certification and has successfully completed multiple SAS70 Type II audits. We will continue to obtain the appropriate security certifications and conduct audits to demonstrate the security of our infrastructure and services." More about AWS certifications and accreditations here: http://aws.amazon.com/security/
Compliance with Data Privacy Laws
Compliance with EU Protection of Personal Data (Directive 95/46/EC)
KnowBe4 complies with the EU Protection of Personal Data Directive as set forth by the Directive 95/46/EC Article 29 Working Party. KnowBe4 operates a separate instance of its application in an EU datacenter for customers wishing to have their data reside within an EU approved country. Some data subprocessors in use by KnowBe4 only offer services within the US. A listing of these subprocessors can be provided upon signing a mutual non-disclosure agreement. Any requests from users of the KnowBe4 applications who seek access, or who seek to correct, amend, or delete inaccurate data may do so directly by logging in to the appropriate application or by contacting the KnowBe4 application administrator for their organization.
Anytime you see the word "cookie" you may think something along the chocolate chip variety and we don't blame you! However, the cookies we are talking about are computer cookies, more formally known as HTTP cookies, web cookies and internet cookies. Anytime that you visit a website, the website sends the cookie to your computer and it stores a small text file inside of your web browser. We are able to use these cookies to identify your device as you browse through our website or when you return as a visitor to our site. This helps navigating and interacting with our Site and KB4 account portal more efficient, easy and meaningful.
KnowBe4 uses cookies and other tracking technologies such as pixels, gifs and web beacons. These help us identify you and your interests, remember your preferences, and track your use of our Sites. We also use Cookies and Tracking Technologies to control access to certain content on our Sites, protect our Sites, and to process any requests that you make.
You can turn off your web browsers ability to accept cookies. However, if you do that, certain parts of the KB4 Site or console portal may not work for you.
First and Third Party Cookies.
"First Party Cookies" are cookies that belong to KnowBe4 and that we place on your device. "Third Party Cookies" are cookies that another party places on your device through our site. KnowBe4 may contract with a third-party service to help us send e-mails or other information to users who have provided their contact information. To measure the effectiveness of these services, our service providers may place Cookies on the devices of those users.
Below are some cookie classifications:
| | |
| --- | --- |
| Cookies | Description |
| Strictly Necessary | means the cookies are essential for the provision of the site and any requested services, but do not perform any additional or secondary function. |
| Performance Cookies | are those that provide statistical information on site usage, i.e. web analytics. |
| Functionality Cookies | These cookies allow the provision of enhanced functionality and personalization, such as videos and live chat. They may be set by us or by third-party providers whose services we have added to our pages. If you do not allow these cookies, then some or all of these functions may not work properly. |
| Targeting/Advertising Cookies | are used to create profiles or personalize content. Third parties often set them and these cookies present the highest privacy risks to visitors. |
Web beacons
Web beacons and embedded scripts are other technologies that we use in our websites, as well as in some of our emails and ads.
Web beacons (or "tags") are bits of programming code included in web pages, emails, and ads that notify Adobe (or the companies that help us run our business) when those web pages, emails, or ads have been viewed or clicked on.
Opting Out of
If you would not like to have cookies read or dropped on your devices, you can adjust the setting on your web browser to reject the setting of some or all of the Cookies and to alert you when a cookie has been dropped into your web browser. For further information on how to do so, please refer to your browsers help tool or see www.allaboutcookies.org. Please note that if you use your browser settings to block all Cookies (including strictly necessary Cookies) you may not be able to access or use all or parts or functionalities of our sites. You may also learn more at www.youronlinechoices.eu.
Contact Us
If you have any questions please contact us at privacymanager@knowbe4.com
Other helpful resources
To learn more about the use of cookies please follow these links:
To learn more about how to manage cookies, please see the websites listed below: