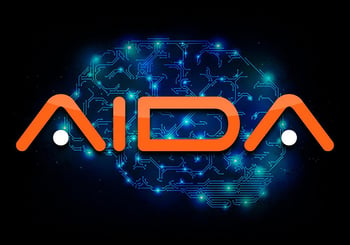 Meet AIDA – your smart sidekick that trains your employees to make smarter security decisions.
AIDA stands for Artificial Intelligence Driven Agent and uses artificial intelligence to dynamically create integrated campaigns that send emails, text and voicemail to an employee, simulating a multi-vector social engineering attack. It attempts to have the employee either click on a phishing link, tap on a link in a text message, or respond to vishing – any of which could compromise your network. In short, AIDA uses Artificial Intelligence to inoculate your employees against social engineering.
Why AIDA?
We now live in a world where cybercrime has gone pro and has massive resources. There are 7 levels of hackers, posing a bigger threat with each level. Many organizations have suffered data loss to a degree that it hurt their bottom line and/or their share price. Companies that get badly hacked lose out to the ones that are well-defended.
And what is the common thread?
All hackers are going after your employees because they are the low-hanging fruit. It's easier to hack humans than it is to hack software. If employees would be able to make smarter security decisions, the life of hackers would be a lot harder and your organization would be a "hard target" instead of a phish in a barrel.
Tired of always being in reactive mode?
AIDA is a dramatic step in the race to get ahead of the bad guys. AIDA's interface is deceptively simple. You just name the campaign and choose the group of employees. That is all. AIDA does the rest, and you will see the reports of who clicked, tapped and/or responded to a voicemail.
We feel this is an incredibly exciting development and finally allows you to get proactive!
AIDA is in Beta and available to KnowBe4 customers with a Diamond level subscription. AIDA can be enabled from within the KnowBe4 console. You can enable participation in this beta program by going into the Account Settings portion of your console, scrolling down to the Phishing settings, checking the "Enable AIDA Beta" checkbox, and saving the settings.
Warm regards,
Stu Sjouwerman
Founder and CEO, KnowBe4, Inc.