When it's time to complete a compliance audit, are you thinking,

"Ugh, is it that time again?"
And, as more organizations demand proof that security controls are in place to protect their data in the cloud, keeping up with risk assessments and audits to prove compliance is a continuous problem.
If you're trying to wrap your head around the Statement on Standards for Attestation Engagements no. 18 Trust Services Criteria (SSAE18) framework, you likely have a lot of questions. You want answers and need guidance on how to best meet the requirements to get your organization ready for a SOC 2 compliance audit - fast.

Find out your organization's audit readiness now!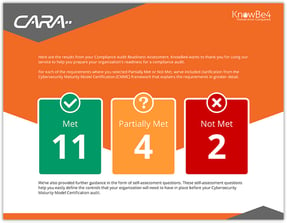 KnowBe4's new Compliance Audit Readiness Assessment (CARA) is a complimentary web-based tool that helps you take the first step towards assessing your organization's readiness for meeting compliance.

CARA guides you through select Control Components of the SSAE18 requirements and asks you to rate your readiness for each requirement. CARA then provides an analysis of your results to help you define the controls you need in place before your compliance audit.
Here's how CARA works:
Find out your organization's readiness for a SOC 2 compliance audit now!