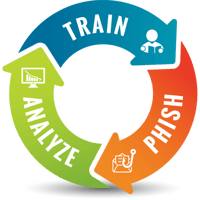 KnowBe4 Security Awareness Training
Old-school Security Awareness Training doesn't hack it anymore.
KnowBe4 is the world's most popular integrated Security Awareness Training and Simulated Phishing platform. More than 17,000 organizations worldwide are using it. You now have a way to better manage the urgent IT security problems of social engineering, spear phishing and ransomware attacks.
Our SaaS subscription is priced per seat, per year. We offer Silver, Gold, Platinum or Diamond levels to meet your organization's needs. Pricing as per June 2017 for North America. List pricing may be modified at any time, and may be different in different countries. Ask for our non-profit and competitive upgrade discounts.

KnowBe4 offers attractive discounts for 3-year contract. Get started today by filling out the form on the right and find out how surprisingly affordable this is.