General Counsel Alicia Dietzen and Drew Graef, SVP of global talent, recognized in Top 10 for Corporate Counsel and Talent Acquisition Professional awards, respectively
KnowBe4, the provider of the world's largest security awareness training and simulated phishing platform, today announced that its General Counsel Alicia Dietzen has been recognized with an OnCon 2023 Top 10 Corporate Counsel award along with Drew Graef, SVP of global talent, who has been recognized with an OnCon 2023 Top 10 Talent Acquisition Professional award.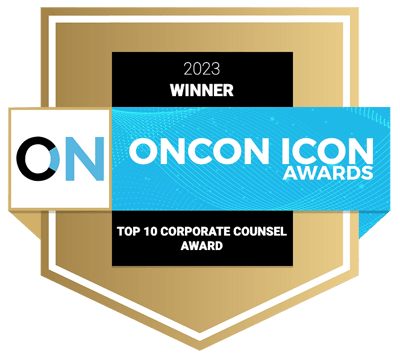 These global awards recognize the top 100 professionals in each category who have made strong contributions to their professional community through thought leadership, made a considerable impact on their organization, innovated in their roles and exhibited exceptional leadership. The OnConferences team determines finalists based on the applications and nominations, and public/peer voting determines the recipients of the Icon Awards. Winners represent some of the top professionals in the entire world. Dietzen and Graef were both recognized among the top 10 for this award in their respective categories.
During her tenure at KnowBe4, Dietzen has managed to build a legal department and facilitate and support its global expansion efforts. She has brought on strategic hires to help provide global legal support to the organization as it expanded internationally across multiple countries and provided key legal support for the organization as KnowBe4 became public in April 2021 and private again in February 2023. Regarding community involvement, Dietzen has contributed by helping to establish the KnowBe4 Cybersecurity Law Program Fund at Stetson Law School, which offers a wide range of benefits for the law students, including scholarships, internship opportunities and general support for business law initiatives at Stetson.
"I am deeply honored to receive this award for the second consecutive year," said Dietzen. "I am grateful to KnowBe4 for trusting me to build and lead our incredible legal team of attorneys and support staff as we continue to expand the organization, especially through the many changes we have experienced over the last several years. It is a privilege to be recognized amongst the other outstanding legal professionals in this category and I am thankful to my peers for their votes that contributed to this award."
While at KnowBe4, Graef has led the global talent team and over the last several years, has overseen expansion efforts to attract and hire diverse talent domestically and globally. In 2020, Graef played an instrumental role as KnowBe4 reshaped its strategies to support a hybrid workforce due to the pandemic and has since increased hires by 260% in the most challenging market this century. Offering virtual recruitment and onboarding while still providing in-person career opportunities has allowed KnowBe4 to broaden its talent pool and provide best-in-class service. Additionally, Graef ensures the onboarding activities allow new hires, regardless of location, to get to know one another and connect.
"It is an honor to be recognized alongside this group of accomplished leaders from around the world," said Graef. "I am beyond grateful to lead and work with KnowBe4's amazing global talent team. We take pride in growing and improving the organization by hiring hard working talent across the globe and by providing a world-class, unique onboarding experience for all employees. I feel very fortunate to work at KnowBe4 where I am supported, have fun in my role and have the opportunity to provide the same experience with each new person we hire."
For a full list of the 2023 OnCon Top 100 Corporate Counsel Award recipients, visit https://www.onconferences.com/2023-legal-winners.
For a full list of the 2023 OnCon Top 100 Talent Acquisition Professional Award recipients, visit https://www.onconferences.com/2023-talent-acquisition-winners.
About KnowBe4
KnowBe4, the provider of the world's largest security awareness training and simulated phishing platform, is used by more than 56,000 organizations around the globe. Founded by IT and data security specialist Stu Sjouwerman, KnowBe4 helps organizations address the human element of security by raising awareness about ransomware, CEO fraud and other social engineering tactics through a new-school approach to awareness training on security. Kevin Mitnick, an internationally recognized cybersecurity specialist and KnowBe4's Chief Hacking Officer, helped design the KnowBe4 training based on his well-documented social engineering tactics. Tens of thousands of organizations rely on KnowBe4 to mobilize their end users as their last line of defense.