Annual KnowBe4 user conference taking place in person April 20-22 in Orlando, FL with headline speakers Nicole Perlroth, cybersecurity and digital espionage reporter, The New York Times and Kevin Mitnick, chief hacking officer, KnowBe4
KnowBe4, the provider of the world's largest security awareness training and simulated phishing platform, today announced its lineup of top cybersecurity speakers who will be covering topics related to bridging the infosec gap – awareness, behavior and culture at the organization's annual user conference KB4-CON 2022 in Orlando, FL April 20-22.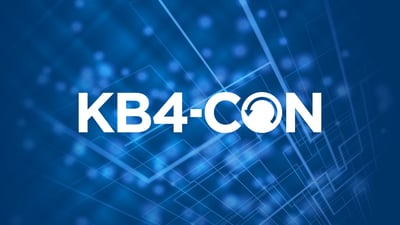 Following a welcome from KnowBe4 CEO Stu Sjouwerman, Nicole Perlroth, cybersecurity and digital espionage reporter for The New York Times will deliver a talk entitled "This Is How They Tell Me the World Ends". This session will highlight thrilling untold stories of the cyberweapons market – the most secretive, invisible, government-backed market on earth – and a terrifying first look at a new kind of global warfare.
The audience will also experience a Fireside Chat with the world's most famous hacker, Kevin Mitnick, who is also KnowBe4's chief hacking officer and KnowBe4's chief information officer, Colin Murphy. The pair will discuss the latest trends hackers are using to social engineer end users. At one point during his life, Kevin was the FBI's most wanted hacker; and in this session, he will show the audience that it takes one to know one. Kevin will demo some of the most cutting-edge techniques used by today's cyber criminals in order to better equip attendees to properly defend their organizations.
"After two years of virtual events, we are thrilled to bring KB4-CON back to our customers and partners as an in-person event this year," said Sjouwerman. "KB4-CON 2022 is focused on three core components that we believe are key to a strong security posture – awareness, behavior and culture. We have an incredible lineup of speakers from all over the world. This event promises to deliver a world-class experience for attendees to learn, network and share knowledge with peers."
KB4-CON 2022 will be open to all security professionals from April 20-22, 2022. The event sessions will focus on peer insights, product updates and best practices, as well as some of the hottest topics in cybersecurity such as governance, risk and compliance (GRC), ransomware, cyber insurance and more.
The full agenda for KB4-CON 2022 is available here.


About KnowBe4
KnowBe4, the provider of the world's largest security awareness training and simulated phishing platform, is used by more than 47,000 organizations around the globe. Founded by IT and data security specialist Stu Sjouwerman, KnowBe4 helps organizations address the human element of security by raising awareness about ransomware, CEO fraud and other social engineering tactics through a new-school approach to awareness training on security. Kevin Mitnick, an internationally recognized cybersecurity specialist and KnowBe4's Chief Hacking Officer, helped design the KnowBe4 training based on his well-documented social engineering tactics. Tens of thousands of organizations rely on KnowBe4 to mobilize their end users as the last line of defense.