Increased demand for new-school security awareness training spurs 22nd consecutive quarter increase
KnowBe4, the provider of the world's largest security awareness training and simulated phishing platform, today announced its incredible year-over-year sales increase, nearly doubling Q3 2017's sales for Q3 2018, breaking records with new corporate accounts, and customer accounts topping the 20,000 milestone.
Q3 2018 marks the 22nd straight quarter of growth, driven by an increasing enterprise demand for its new-school approach to security awareness training and an expanding portfolio of resources for security training. This exceptional growth and organizational expansion has been fueled by its technical and content innovation and continuous improvement of effective ways to turn employees into a "human firewall" that can recognize and avoid cyber threats, thereby reducing risk.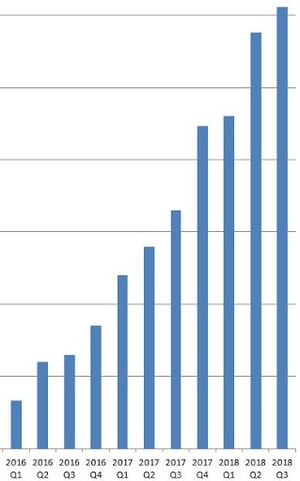 "Q3 2018 was certainly a busy and exciting quarter for us," said Stu Sjouwerman, CEO, KnowBe4. "The bad guys aren't slowing down, so why should we? We have made major strides in the use of AI and Machine Learning, so we can now clearly document the effectiveness of our new-school approach to security awareness training. Given the increasing occurrence of cyberattacks, it's crucial to train your employees to "think before they click" as they are an organization's last line of defense."
Other recent and notable milestones and awards for Q3 2018 include:
Rocketed up to the #96 spot on the Inc. 500, appearing on the list for the third time in succession.
Hired seasoned finance and tech executive Krish Venkataraman as chief financial officer to support the company's rapid growth strategy.
Earned the number #2 for the Tampa Bay Business Journal's Fast 50 Awards.
Opened a new office in Singapore, expanding into the Asia-Pacific region.
Expanded its ever-growing library of content by partnering with Twist & Shout.
Introduced a mobile version of the Phish Alert Button.
CEO Stu Sjouwerman named a top management honoree for SC Media 2018 Reboot Leadership Awards.
Won the Channelnomics Security Award for Best Security Training.
Won the Cyber Defense 2018 Global Award for being a leader in security training.
Won the Golden Bridge Award – Gold Winner – for training and education.
Release of a new tool called Domain Doppelgänger to help brands identify malicious, fake web domains.
Inclusion of crypto mining in KnowBe4's Ransomware Simulator.
Sjouwerman continued, "We're honored to win all of these awards, being recognized as a leader in information security training and organizational growth. We expanded our presence into a new region to help those in Asia-Pacific manage the ongoing problem of social engineering. We also introduced several new free tools and fresh content to help cybersecurity professionals remain vigilant against the onslaught of cyberattacks."
For more information, please visit www.KnowBe4.com.


About KnowBe4
KnowBe4, the provider of the world's largest integrated security awareness training and simulated phishing platform, is used by more than 20,000 organizations worldwide. Founded by data and IT security expert Stu Sjouwerman, KnowBe4 helps organizations address the human element of security by raising awareness of ransomware, CEO fraud and other social engineering tactics through a new-school approach to security awareness training. Kevin Mitnick, internationally recognized computer security expert and KnowBe4's Chief Hacking Officer, helped design KnowBe4's training based on his well-documented social engineering tactics. Tens of thousands of organizations worldwide trust KnowBe4 to mobilize their employees as their last line of defense.
Number 96 on the 2018 Inc. 500 list, #70 on 2017 Deloitte's Technology Fast 500 and #2 in Cybersecurity Ventures Cybersecurity 500. KnowBe4 is headquartered in Tampa Bay, Florida with European offices in England, the Netherlands, Germany and offices in South Africa and Singapore.