Continued threats from phishing and ransomware fuel relentless success for 21st consecutive quarter increase
KnowBe4, provider of the world's largest security awareness training and simulated phishing platform, today announced its incredible year over year sales increase, doubling Q2-17's sales for Q2 2018, with an ever increasing number of new corporate accounts, bringing customer accounts to well over 19,000.
Q2 2018 marks the 21st straight quarter of growth, driven by an increasing enterprise demand for its new-school approach to security awareness training. This exceptional growth and organizational expansion has been supported by its continued innovation and development of effective ways to turn employees into a "human firewall" that can recognize and avoid cyber threats, thereby reducing risk.
"I am thrilled to see continued hypergrowth for our organization," said Stu Sjouwerman, CEO, KnowBe4. "Providing our customers with very frequent fresh content to meet their training needs is paramount to our success. With the variety of social engineering attacks that are victimizing organizations today, there's never been a better time to step employees through new-school security awareness training, as they literally are your last line of defense."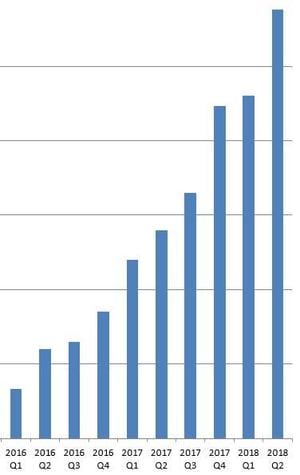 Other recent and notable milestones and awards for Q2 2018 include:
The acquisition of exploqii, expanding KnowBe4's footprint into Germany, Austria and Switzerland. Known as the "Netflix" in the world of security awareness training materials, this acquisition keeps KnowBe4 awareness training content continuously fresh.
Release of an innovative new free security tool called "Breached Password Test" which searches the current passwords in Active Directory to determine if any of them have been involved in a data breach, helping to resolve the hacked passwords risk.
The hiring of well-known cybersecurity expert, author and speaker Roger Grimes as Data-Driven Defense Evangelist.
KB4 CON 2018, the inaugural and highly successful user conference with 300 attendees in Orlando, Florida, in May.
Hiring of its 500th (and beyond) employee.
Secured the #1 spot in the Tampa Bay Business Journal's Top Workplaces in the extra- large business category.
Achieved the #2 spot on the Cybersecurity Ventures 500 list, which names the hottest and most innovative cybersecurity companies.
According to Sjouwerman, "With the increasing proliferation of cyber crime and cyber attacks, it's more important than ever to train users to become vigilant when opening emails, clicking on links and downloading attachments. KnowBe4 recommends frequent simulated phishing attacks to keep employees aware of the potential security threats that organizations face such as CEO fraud, business email compromise, ransomware and more."
For more information, visit www.KnowBe4.com.
About KnowBe4
KnowBe4, the provider of the world's largest integrated security awareness training and simulated phishing platform, is used by more than 19,000 organizations worldwide. Founded by data and IT security expert Stu Sjouwerman, KnowBe4 helps organizations address the human element of security by raising awareness of ransomware, CEO fraud and other social engineering tactics through a new-school approach to security awareness training. Kevin Mitnick, internationally recognized computer security expert and KnowBe4's Chief Hacking Officer, helped design KnowBe4's training based on his well-documented social engineering tactics. Thousands of organizations trust KnowBe4 to mobilize their end-users as the last line of corporate IT defense.
Number 231 on the 2017 Inc. 500 list, #70 on 2017 Deloitte's Technology Fast 500 and #2 in Cybersecurity Ventures Cybersecurity 500. KnowBe4 is headquartered in Tampa Bay, Florida with European offices in England, the Netherlands, Germany and offices in South Africa and Singapore.