"The Inside Man" cybersecurity drama season four world premiere in Florida, USA
KnowBe4, the provider of the world's largest security awareness training and simulated phishing platform, today announced its blockbuster security awareness series "The Inside Man" is premiering its fourth season at the Capitol Theatre in Clearwater, Florida.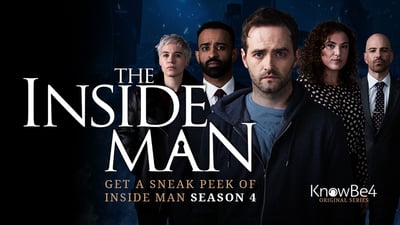 This season's story takes the action on to a truly international stage. Mark Shepherd's team of cyberwarriors -- A.J. Fiona, Maurice and Violet -- are facing their deadliest threat yet as an international energy company is brought to its knees by a devastating ransomware attack. Mark's relationship with Charlotte will be tested like never before.
"This series has won several prestigious awards, showing the superior quality and entertaining content that makes this seem like a highly addictive Netflix-style series rather than security awareness training," said Stu Sjouwerman, CEO, KnowBe4. "The feedback from our customers is clear, 'The Inside Man' is the most used security awareness training series that we produce in the optional training category, so we had to bring them another season. Season four promises to deliver another highly anticipated continuation of the storyline, undoubtedly with some plot twists. We wanted our employees to be the first ones to watch the new season at this world premiere so they can share the excitement with our customers."
"It seems that every season we get that much bigger, better and more exciting, but this season takes it to a whole new level," said Jim Shields, creative director, Twist & Shout Communications, a KnowBe4 company. "'The Inside Man' has now grown into its own dramatic universe, more international than ever, and full of amazing characters."
"The Inside Man" is a custom, network-quality video series, now with four seasons, created by Twist & Shout Communications, a KnowBe4 company. The series opens with an IT security analyst starting a new job where no one suspects he's already inside their most secure systems or that sinister forces are pulling his strings. The exclusive KnowBe4 series delivers an entertaining, movie-like experience with a compelling story that will engage users and create fans. From social engineering to passwords, to social media and deep fakes, "The Inside Man" reveals how easy it can be for an outsider to penetrate an organization's security controls and network. And, more importantly, it wrestles with the human cost of cybercrime. This new content is available to all diamond-level KnowBe4 subscribers.
Visit "The Inside Man" microsite at https://insideman.knowbe4.com/. Preview a trailer of season four here.


About KnowBe4
KnowBe4, the provider of the world's largest security awareness training and simulated phishing platform, is used by more than 44,000 organizations around the globe. Founded by IT and data security specialist Stu Sjouwerman, KnowBe4 helps organizations address the human element of security by raising awareness about ransomware, CEO fraud and other social engineering tactics through a new-school approach to awareness training on security. Kevin Mitnick, an internationally recognized cybersecurity specialist and KnowBe4's Chief Hacking Officer, helped design the KnowBe4 training based on his well-documented social engineering tactics. Tens of thousands of organizations rely on KnowBe4 to mobilize their end users as the last line of defense.