Award-winning cybersecurity drama series brings viewers new adversary and thrilling plot twists
KnowBe4, the provider of the world's largest security awareness training and simulated phishing platform, announced the world premiere of the fifth season of its blockbuster security awareness series 'The Inside Man' at a Leicester Square, London cinema screening. This season finds Mark, AJ, Fiona, Violet and Maurice receiving an approach from the security services that will raise the emotional stakes to an all time high, as they take on a chilling, remorseless adversary deploying a vast resource of hacking power.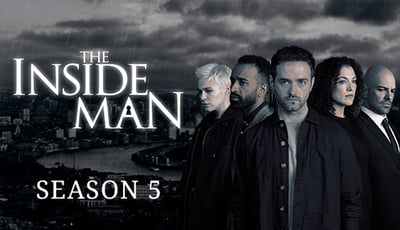 "Security awareness training doesn't have to be boring, nor should it," said Stu Sjouwerman, CEO, KnowBe4. "'The Inside Man' is the most utilised training that KnowBe4 offers in the optional training category because it is highly captivating and the production quality is more like a network-quality series than training. This season is filled with thrilling plot twists and a new adversary to keep users on the edge of their seats when they watch. We are pleased to bring our customers another season of their favourite security awareness training series, adding to KnowBe4's ever-growing content library and helping customers to further enhance security culture."
"In this season, we see many of these exciting plotlines finally come home to roost," said Jim Shields, creative director, Twist & Shout Communications, a KnowBe4 company. "Storylines for which we've spent two or three seasons laying the foundations. It's powerful stuff, and the production team have excelled themselves as usual in bringing it to life. I'm unbelievably proud to be a part of this series."
'The Inside Man' is a highly engaging, network-quality video series, now with five seasons, created by Twist & Shout Communications, a KnowBe4 company. The series opens with an IT security analyst starting a new job where no one suspects he is already inside their most secure systems or that sinister forces are pulling his strings. The exclusive KnowBe4 series delivers an entertaining, movie-like experience with a compelling story that will engage users and create fans. From social engineering to passwords, to social media and deep fakes, 'The Inside Man' reveals how easy it can be for an outsider to penetrate an organisation's security controls and network. And, more importantly, it wrestles with the human element of cybercrime.
This new content will be available on March 28 to all diamond-level KnowBe4 subscribers. Visit 'The Inside Man' microsite at https://insideman.knowbe4.com.
About KnowBe4
KnowBe4, the provider of the world's largest security awareness training and simulated phishing platform, is used by more than 56,000 organisations around the globe. Founded by IT and data security specialist Stu Sjouwerman, KnowBe4 helps organisations address the human element of security by raising awareness about ransomware, CEO fraud and other social engineering tactics through a new-school approach to awareness training on security. Kevin Mitnick, an internationally recognised cybersecurity specialist and KnowBe4's Chief Hacking Officer, helped design the KnowBe4 training based on his well-documented social engineering tactics. Tens of thousands of organisations rely on KnowBe4 to mobilise their end users as the last line of defence.