Russia's information warfare campaigns, bank hacking strategies from North Korea and the best mitigation tactics covered at KnowBe4's annual user conference
KnowBe4, the provider of the world's largest security awareness training and simulated phishing platform, today provided highlights of the speaking sessions from its KB4-CON 2023 user conference in Orlando, FL last week.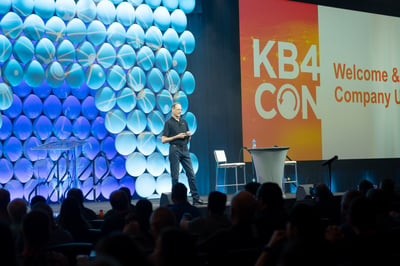 KB4-CON 2023 attracted over 1,600 attendees from 27 countries around the world. This year's theme was security culture connection, with the definition of security culture centered around the ideas, customs and social behaviors of a group that influences its security. The event focused on peer insights, product updates and best practices, as well as some of the hottest topics in cybersecurity defense, security culture, awareness and more.
Dr. Bilyana Lilly, director of security intelligence and geostrategy, Krebs Stamos Group, covered Russia's information warfare campaign and how Western countries can defend against these malicious tactics. She first described the purpose of information warfare, as defined by Russia, which has both technical and psychological purposes. She conducted research in various European countries by meeting with cybersecurity experts and government officials to develop frameworks to simplify the way that people talk about Russian information warfare campaigns. Dr. Lilly also showed examples of information warfare tactics such as the 2016 U.S. Presidential election, which was impacted by disinformation through social media, impersonation, protests and takeover of U.S. computer infrastructure. These issues continue with the war in Ukraine. Two countermeasures that she recommended to help defend against these threats include patching regularly and training end users.
Rachel Wilson, managing director and head of cybersecurity, Morgan Stanley Wealth Management, explained how North Korea is hacking many of the central banking systems throughout the world as part of their national strategy to fund their government. In fact, a United Nations report found that 27 countries claimed that North Korea has come after their banks for a total of $3 billion over the last three years. She also mentioned how children are trained to be bank hackers from a very young age and that is all they do, so they grow up constantly learning new skills and techniques that make it difficult for others to defend against. Wilson also advocated for patching to mitigate vulnerabilities, creating unique and random alphanumeric passwords and spreading security awareness to end users.
"Our sixth annual KB4-CON event had a great turnout with a record number of attendees from countries all over the world," said Stu Sjouwerman, CEO, KnowBe4. "This year's speaker agenda was full of some of the most highly respected thought leaders in the cybersecurity industry. Bad actors are everywhere and it was clear after hearing our keynote speakers that we have to remain vigilant to mitigate today's most dangerous threats. These threats have far-reaching implications which can impact not only our society but our way of life."
Save the date for KB4-CON 2024, taking place March 4-6, 2024 in Orlando, FL, U.S. To register your interest for the 2024 event, visit knowbe4.com/kb4con2024.
About KnowBe4
KnowBe4, the provider of the world's largest security awareness training and simulated phishing platform, is used by more than 56,000 organizations around the globe. Founded by IT and data security specialist Stu Sjouwerman, KnowBe4 helps organizations address the human element of security by raising awareness about ransomware, CEO fraud and other social engineering tactics through a new-school approach to awareness training on security. Kevin Mitnick, an internationally recognized cybersecurity specialist and KnowBe4's Chief Hacking Officer, helped design the KnowBe4 training based on his well-documented social engineering tactics. Tens of thousands of organizations rely on KnowBe4 to mobilize their end users as the last line of defense.