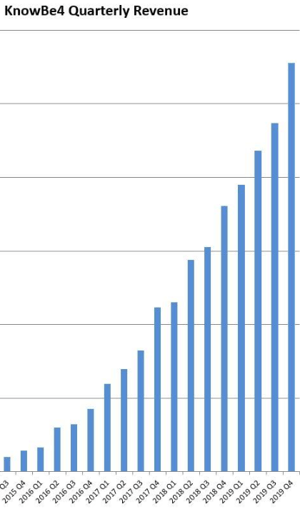 27th consecutive quarter of growth, key leadership hires and several best workplace awards
Tampa Bay, FL (January 2, 2019) – KnowBe4, the provider of the world's largest security awareness training and simulated phishing platform, today announced a massive year-over-year sales increase with another record-breaking quarter. In the fourth quarter of 2019, KnowBe4 reached 54% growth over Q4 2018, increasing customer accounts to well over 30,000.
The 27th consecutive quarter of hypergrowth has been driven by demand for KnowBe4's new-school security awareness training, coinciding with a rapidly expanding portfolio of engaging and award-winning training content. The organization also made several key leadership hires and an executive board appointment, including Karina Mansfield as managing director for Australia, James McQuiggan as security awareness advocate, Mark Patton as senior vice president of engineering and independent board member Gerhard Watzinger.
"The success we've seen with our growth shows that there's a huge need for effective security awareness training," said Stu Sjouwerman, CEO, KnowBe4. "Organizations are especially looking for the type of new-school training that we offer – it's interactive, on-demand and engaging. KnowBe4 has an enormous content variety for every type of learner. 2019 was a super successful year for KnowBe4 and we're looking forward to another record-setting year in 2020."
Other recent and notable milestones and awards for Q4 2019 include:
For more information on KnowBe4, visit www.knowbe4.com.
About KnowBe4
KnowBe4, the provider of the world's largest security awareness training and simulated phishing platform, is used by more than 30,000 organizations around the globe. Founded by IT and data security specialist Stu Sjouwerman, KnowBe4 helps organizations address the human element of security by raising awareness about ransomware, CEO fraud and other social engineering tactics through a new-school approach to awareness training on security. Kevin Mitnick, an internationally recognized cybersecurity specialist and KnowBe4's Chief Hacking Officer, helped design the KnowBe4 training based on his well-documented social engineering tactics. Tens of thousands of organizations rely on KnowBe4 to mobilize their end users as the last line of defense.