26th consecutive quarter of growth with a leadership position in the Gartner Magic Quadrant and formidable global growth
KnowBe4, the provider of the world's largest security awareness training and simulated phishing platform, today announced a significant year-over-year sales increase with another record-breaking quarter. In the third quarter of 2019, KnowBe4 reached 55% growth over Q3 2018, increasing customer accounts to well over 28,000.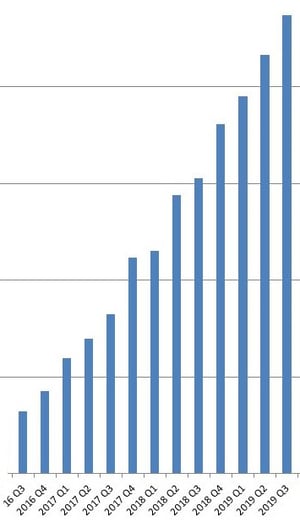 The 26th consecutive quarter of explosive growth has been driven by increased demand for KnowBe4's new-school security awareness training, coinciding with a rapidly expanding portfolio of engaging training content. Demand continues to grow globally as KnowBe4 expands its worldwide reach with the acquisition of Twist and Shout in the UK, enhancing its high-quality video production capabilities. Twist and Shout is the creative force behind "The Inside Man", the award-winning security awareness drama series and "Restricted Intelligence," the world's first information security awareness sitcom, now into its sixth season.
"Our continued sales growth is a direct reflection of the massive adoption levels we're seeing for new-school security awareness training and simulated phishing as an integral part of every organization's information security program," said Stu Sjouwerman, CEO, KnowBe4. "We owe our success to a fantastic platform at a disruptive price point. Moreover, the fantastic team we've built keeps getting awards for customer service. In addition to our continued growth in the European market with the acquisition of Twist and Shout, we're moving into new markets such as Asia Pacific, with the establishment of offices in Australia and Japan."
Other recent and notable milestones and awards for Q3 2019 include:
KnowBe4 was positioned as a leader in the Gartner Magic Quadrant for the third consecutive year and its sixth appearance overall
Recognized on the Inc. 500 list for the fourth time at #161
Winning the Black Unicorn Award for being valued as a $1 billion as a cybersecurity unicorn
Named Best Place to Work Awards for women and millennials by Great Place to Work and Fortune
Cannes award-winning video content production of the new Inside Man series
For more information on KnowBe4, visit www.knowbe4.com.
About KnowBe4
KnowBe4, the provider of the world's largest security awareness training and simulated phishing platform, is used by more than 28,000 organizations around the globe. Founded by IT and data security specialist Stu Sjouwerman, KnowBe4 helps organizations address the human element of security by raising awareness about ransomware, CEO fraud and other social engineering tactics through a new-school approach to awareness training on security. Kevin Mitnick, an internationally recognized cybersecurity specialist and KnowBe4's Chief Hacking Officer, helped design the KnowBe4 training based on his well-documented social engineering tactics. Tens of thousands of organizations rely on KnowBe4 to mobilize their end users as the last line of defense.
Number 161 on the list Inc. 500 of 2019, #34 on 2018's Deloitte's Technology Fast 500, and #2 in Cybersecurity Ventures Cybersecurity 500, KnowBe4 is headquartered in Tampa Bay, Florida, with offices in Brazil, Australia, Japan, England, the Netherlands, Germany, South Africa and Singapore.