Increased demand for new-school security awareness training spurs 24th consecutive quarter of growth, with significant investment and continued global expansion
KnowBe4, the provider of the world's largest security awareness training and simulated phishing platform, today announced a massive year-over-year sales increase, breaking all previous records with the first quarter 2019 coming in at 70 percent over the first quarter of 2018. Additionally customer accounts reached record levels with over 24,000 accounts now on KnowBe4's roster.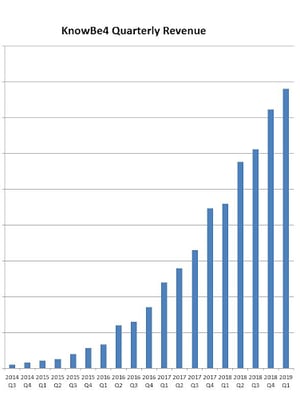 The first quarter of 2019 marks the 24th straight quarter of growth, driven by increasing enterprise demand for KnowBe4's new-school approach to security awareness training and rapidly expanding awareness training content portfolio. Demand continues to grow globally as KnowBe4 continued its worldwide expansion into Brazil in Q1 2019 with the acquisitioin of El Pescador and addition of veteran sales executive Matt McNulty to run international sales.
Leading global investment firm KKR, also recognized KnowBe4's highly successful approach to security awareness training by making a sizable minority investment into the Company in the first quarter of 2019. KKR's investment, with participation from Ten Eleven Ventures, brings KnowBe4's value to over $800 million.
"Every quarter, our sales keep growing well above the last," said Stu Sjouwerman, CEO, KnowBe4. "The recent valuation of the organization at more than $800 million is a strong indicator of the path to success that we see in KnowBe4's future. Global growth is part of our strategy, which is why we've moved into the Brazilian market by acquiring El Pescador and brought Matt McNulty on to oversee international sales."
Significant awards received in Q1 2019 include:
Notable offerings released in Q1 2019 include:
"We're proud to keep winning so many industry awards," said Sjouwerman. "Not only is our new-school approach to security awareness training being recognized, but the incredible staff and culture that are the bread and butter of our organization are also being put into the spotlight. They all play a part in our exceptional growth and continued global expansion."
For more information on KnowBe4, visit www.knowbe4.com.
About KnowBe4
KnowBe4, the provider of the world's largest security awareness training and simulated phishing platform, is used by more than 24,000 organizations around the globe. Founded by IT and data security specialist Stu Sjouwerman, KnowBe4 helps organizations address the human element of security by raising awareness about ransomware, CEO fraud and other social engineering tactics through a new-school approach to awareness training on security. Kevin Mitnick, an internationally recognized cybersecurity specialist and KnowBe4's Chief Hacking Officer, helped design the KnowBe4 training based on his well-documented social engineering tactics. Tens of thousands of organizations rely on KnowBe4 to mobilize their end users as the last line of defense.
Number 96 on the list Inc. 500 of 2018, number 34 on 2018's Deloitte's Technology Fast 500, and 2nd place in Cybersecurity Ventures Cybersecurity 500, KnowBe4 is headquartered in Tampa Bay, Florida, with offices in Brazil, England, the Netherlands, Germany, South Africa and Singapore.