KnowBe4 recognized for innovation in the security awareness training and anti-phishing market
KnowBe4, the provider of the world's largest security awareness training and simulated phishing platform, today announced that it has won two awards from Cyber Defense Magazine's InfoSec Awards – the Editor's Choice Anti-Phishing award and the Next Gen Security Training award.
This is Cyber Defense Magazine's seventh year of honoring infosec innovators with the Cyber Defense Awards. Submission requirements are for any startup, early stage, later stage or public companies in the infosec space who believe they have a unique and compelling value proposition for their product or service.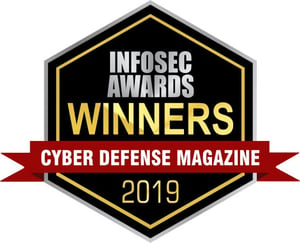 "We're excited to win these unexpected awards from Cyber Defense Magazine," said Stu Sjouwerman, CEO, KnowBe4. "We work hard to ensure that our security awareness training materials are always fresh and meet the current and future demands of cybersecurity professionals. The editor's choice award is another real win for us because it shows that the editors recognize the immense value that KnowBe4 brings to the security awareness training and phishing market."
"Isn't it time to stop the breaches and get one step ahead of the next threat? KnowBe4 has won the Editor's Choice Anti-Phishing and Next Gen Security Training awards from our magazine because they are an innovator that might actually help you reach this goal and defeat the next generation of exploiters," said Gary S. Miliefsky, CEO, Cyber Defense Media Group which is in its 7th year of publishing Cyber Defense Magazine and running these independent and prestigious awards.
For more information on KnowBe4, visit www.knowbe4.com. For more information on Cyber Defense Magazine, visit http://www.cyberdefensemagazine.com/.
About KnowBe4
KnowBe4, the world's most popular integrated security awareness training and simulated phishing platform, is used by more than 23,000 organizations around the globe. Founded by IT and data security specialist Stu Sjouwerman, KnowBe4 helps organizations address the human element of security by raising awareness about ransomware, CEO fraud and other social engineering tactics through a new-school approach to awareness training on security. Kevin Mitnick, an internationally recognized cybersecurity specialist and KnowBe4's Chief Hacking Officer, helped design the KnowBe4 training based on his well-documented social engineering tactics. Thousands of organizations rely on KnowBe4 to mobilize their end users as the last line of defense.
Number 96 on the list Inc. 500 of 2018, number 34 on 2018's Deloitte's Technology Fast 500, and 2nd place in Cybersecurity Ventures Cybersecurity 500, KnowBe4 is headquartered in Tampa Bay, Florida, with offices in England, the Netherlands, Germany, South Africa and Singapore.
About the Judging
The judges are CISSP, FMDHS, CEH, certified security professionals who voted based on their independent review of the company submitted materials on the website of each submission including but not limited to data sheets, white papers, product literature and other market variables. CDM has a flexible philosophy to find more innovative players with new and unique technologies, than the one with the most customers or money in the bank. CDM is always asking "What's Next?" so we are looking for Next Generation InfoSec Solutions.
About Cyber Defense Magazine
With over 1.4 Million annual readers and growing, and over 7,000 pages of searchable online infosec content, Cyber Defense Magazine is the premier source of IT Security information. We are managed and published by and for ethical, honest, passionate information security professionals. Our mission is to share cutting-edge knowledge, real-world stories and awards on the best ideas, products and services in the information technology industry. We deliver electronic magazines every month online for free, and limited print editions exclusively for the RSA conferences and our paid subscribers. CDM is a proud member of the Cyber Defense Media Group. Learn more about us at http://www.cyberdefensemagazine.com and visit http://www.cyberdefensetv.com andhttp://www.cyberdefenseradio.com to see and hear some of the most informative interviews of many of these winning company executives.