Strong company culture and best-in-class customer service contribute to rapid growth
KnowBe4, the provider of the world's largest security awareness training and simulated phishing platform, today announced that it has earned the number two spot for the Tampa Bay Business Journal's Fast 50 Awards.
The Fast 50 recognize the Tampa Bay area's fastest-growing private companies. Awards are based on revenue growth over the past three years.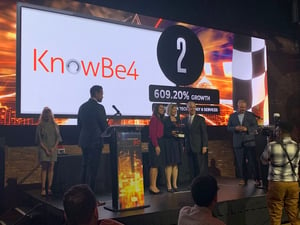 "As social engineering attacks continue to increase, we see the need for our products and services continue to grow tremendously," said Stu Sjouwerman, CEO, KnowBe4. "With a customer base of over 26,000, KnowBe4 is helping more organizations educate their workforce on the latest security threats to help better protect those organizations. Two components that are key to our success as an organization are culture and customer service. These are two pillars that our organization was built on and upon which our hypergrowth is based."
KnowBe4 recently unveiled new phishing benchmark data that showcases the most at-risk industries. The data found that construction companies have the highest "Phish-proneTM" employees in both the small and medium-sized organization category. Hospitality organizations take the lead in large organizations (1,000 or more employees). The study shows these types of organizations rank higher (in the high thirty and high forty percentiles) than the overall average of 29% across all industries and size organizations. Large transportation organizations had the lowest Phish-prone benchmark at 16%.
For more information on KnowBe4, visit www.knowbe4.com.
About KnowBe4
KnowBe4, the provider of the world's largest integrated security awareness training and simulated phishing platform, is used by more than 26,000 organizations worldwide. Founded by data and IT security expert Stu Sjouwerman, KnowBe4 helps organizations address the human element of security by raising awareness of ransomware, CEO fraud and other social engineering tactics through a new-school approach to security awareness training. Kevin Mitnick, internationally recognized computer security expert and KnowBe4's Chief Hacking Officer, helped design KnowBe4's training based on his well-documented social engineering tactics. Tens of thousands of organizations worldwide trust KnowBe4 to mobilize their employees as their last line of defense.
Number 96 on the 2018 Inc. 500 list, #34 on 2018 Deloitte's Technology Fast 500 and #2 in Cybersecurity Ventures Cybersecurity 500. KnowBe4 is headquartered in Tampa Bay, Florida with European offices in England, the Netherlands, Germany and offices in Brazil, South Africa and Singapore.