KnowBe4 partners with the Center for Cyber Safety and Education to bolster women in cybersecurity
KnowBe4, the provider of the world's largest security awareness training and simulated phishing platform, today announced Raquel Reyes as the recipient of its Women in Cybersecurity Scholarship in partnership with the Center for Cyber Safety and Education.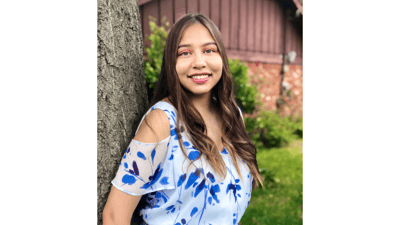 The KnowBe4 Women in Cybersecurity Scholarship offers $10,000 to be applied to tuition, fees, books and required electronics for the recipient. An (ISC)2 Certification Education Package that includes a certification exam voucher, a study course and other materials, practice exams and one year of membership dues paid is also part of this scholarship program.
"We are pleased to offer our 2022 Women in Cybersecurity Scholarship to a very adept student like Raquel," said Kelly Barrena, VP of Global Talent Brand and Outreach, KnowBe4. "With a passion for computer science and cybersecurity from a young age, Raquel is a determined, full-time student who is dedicated to her goals and still manages to volunteer in her local community. She is a deserving scholarship recipient with a bright future ahead of her."
"The funds from this scholarship will be highly beneficial to help lower the financial pressure I'm currently experiencing," said Reyes. "Working and going to school full-time is a lot to manage, and this scholarship will allow me to put my entire focus on my studies."
"Despite significant efforts to recruit women into the industry, at best just a quarter of cybersecurity professionals worldwide are women. To deliver progress and lasting positive change we need more initiatives and support from organizations, such as this scholarship commitment from KnowBe4. Our continued partnership to deliver this scholarship is enabling more women in cybersecurity to enter and progress, another step in delivering long-overdue equality," said Tara Wisniewski, executive vice president, Advocacy, Global Markets and Member Engagement at (ISC)2.
For more information on the KnowBe4 Women in Cybersecurity Scholarship, visit https://iamcybersafe.org/s/knowbe4-womens-cyber-scholarships-.
About KnowBe4
KnowBe4, the provider of the world's largest security awareness training and simulated phishing platform, is used by more than 50,000 organizations around the globe. Founded by IT and data security specialist Stu Sjouwerman, KnowBe4 helps organizations address the human element of security by raising awareness about ransomware, CEO fraud and other social engineering tactics through a new-school approach to awareness training on security. Kevin Mitnick, an internationally recognized cybersecurity specialist and KnowBe4's Chief Hacking Officer, helped design the KnowBe4 training based on his well-documented social engineering tactics. Tens of thousands of organizations rely on KnowBe4 to mobilize their end users as the last line of defense.
About Center for Cyber Safety and Education
The Center for Cyber Safety and Education (Center), is a non-profit charitable trust committed to making the cyber world a safer place for everyone. The Center works to ensure that people across the globe have a positive and safe experience online through their educational programs, scholarships, and research. Visit www.IAmCyberSafe.org.