Clear and Concise Guide for Defense and Response to a Ransomware Attack
KnowBe4, the provider of the world's largest security awareness training and simulated phishing platform, today announced the launch of the 2022 Ransomware Hostage Rescue Manual, which includes detailed steps for addressing ransomware infections and simplified checklists.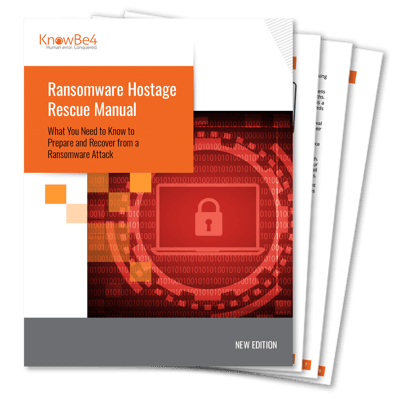 With ransomware attacks continuing to increase around the world, substantial damage has been caused to organizations of all sizes. Just last week, The Cybersecurity and Infrastructure Security Agency, the FBI and National Security Agency released a joint advisory with international partners in the U.K. and Australia, warning of the growing global threat of ransomware. According to the 2021 Cyberthreat Defense Report, ransomware was successful in exploiting 68% of surveyed organizations in one year alone. Most of these crimes are financially motivated, with the average ransom paid in Q3 2021 from a ransomware attack costing $139,739 USD.
"Ransomware has evolved significantly over the last few years and today, over 80% of all ransomware attacks involve 'double extortion,' data and credential exfiltration," said Roger Grimes, data-driven defense evangelist, KnowBe4. "Regardless of whether someone has been hit with ransomware or not, protecting the network from these types of attacks is now an integral part of any network security framework for both individuals and organizations. This manual provides real-world examples of ransomware attacks, explanations on how to avoid becoming impacted by a ransomware attack and specific steps to take for those who have been a victim of ransomware."
The KnowBe4 2022 Ransomware Hostage Rescue Manual covers the following:
Relevant ransomware stats and stories from attacks in the wild

What ransomware is and what signs to look for if someone suspects infection

Specific steps to take once someone confirms they have been impacted

The various responses to ransomware infection, from payment to doing nothing, and their pros and cons

How someone can protect themselves and their organization in the future

Top causes of ransomware exploitation to help prevent becoming a ransomware victim

A step-by-step checklist for someone dealing with a ransomware incident

To download the manual, visit https://info.knowbe4.com/ransomware-hostage-rescue-manual-0.
About KnowBe4
KnowBe4, the provider of the world's largest security awareness training and simulated phishing platform, is used by more than 44,000 organizations around the globe. Founded by IT and data security specialist Stu Sjouwerman, KnowBe4 helps organizations address the human element of security by raising awareness about ransomware, CEO fraud and other social engineering tactics through a new-school approach to awareness training on security. Kevin Mitnick, an internationally recognized cybersecurity specialist and KnowBe4's Chief Hacking Officer, helped design the KnowBe4 training based on his well-documented social engineering tactics. Tens of thousands of organizations rely on KnowBe4 to mobilize their end users as the last line of defense.