2023 marks the first time KnowBe4 has ranked on this list where it is recognized for its workplace culture, wellness benefits and more
KnowBe4, the provider of the world's largest security awareness training and simulated phishing platform, has been ranked as one of Berlin and Brandenburg's Best Workplaces 2023.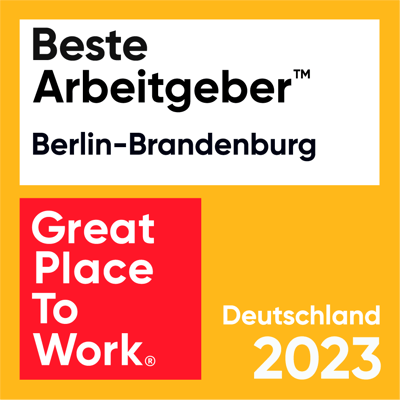 This award represents KnowBe4's commitment to creating a fair and respectful work environment for its employees. Organizations featured on this year's list were selected based on confidential employee feedback which revealed their sentiments towards topics such as trust in management, organization culture, professional development opportunities, work-life balance, wellness benefits and more.
"It is an honor for KnowBe4 to be recognized on this list for the first time as a best workplace in Berlin," said Ani Banerjee, CHRO, KnowBe4. "At KnowBe4, we put a lot of emphasis on our workplace culture to help foster a fun, engaging and transparent work environment. We are incredibly appreciative of our amazing employees in Germany who help drive our success throughout the DACH region."
"The Berlin office is a great workplace because everyone, regardless of position or team, welcomes you with open arms and makes you feel like you belong," said Jennifer Hartmann-Mauer, regional account manager in KnowBe4's German office. "Every department works together and receives immense support from everyone to achieve our goals. It makes me so unbelievably happy and proud to be part of this team, and I am absolutely not surprised at all that the Berlin office is recognized with this award!"
For more information on KnowBe4 careers, visit https://www.knowbe4.com/careers.
About KnowBe4
KnowBe4, the provider of the world's largest security awareness training and simulated phishing platform, is used by more than 56,000 organizations around the globe. Founded by IT and data security specialist Stu Sjouwerman, KnowBe4 helps organizations address the human element of security by raising awareness about ransomware, CEO fraud and other social engineering tactics through a new-school approach to awareness training on security. Kevin Mitnick, an internationally recognized cybersecurity specialist and KnowBe4's Chief Hacking Officer, helped design the KnowBe4 training based on his well-documented social engineering tactics. Tens of thousands of organizations rely on KnowBe4 to mobilize their end users as their last line of defense.