CFO Krish Venkataraman and CRO Lars Letonoff to help set the stage for KnowBe4's next chapter
KnowBe4, the provider of the world's largest security awareness training and simulated phishing platform, today announced that it has promoted two of its top executives — Chief Financial Officer Krish Venkataraman and Chief Revenue Officer Lars Letonoff — to the roles of co-president to support the organization's hypergrowth strategy. These new roles have been added to their current roles effective immediately.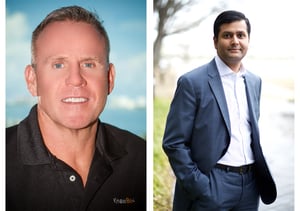 "Since joining our organization in 2018, Krish has attracted world-class investors, helped us achieve some of our best financial metrics to date, and dramatically improved our approach to finance by applying big data strategy and insights, " said KnowBe4 CEO Stu Sjouwerman. "With his skill in driving strategic outcomes, in his expanded role as co-president, Krish will be instrumental in getting the laying the groundwork for the organization's future and effectively communicate to the investor community."
"Joining KnowBe4 at the start, having 15 years of Wall Street experience, and currently being head of global sales, Lars built our customer base from less than 100 to more than 31,000 client organizations around the globe and helped us achieve 27 straight quarters of growth, an unprecedented achievement in our industry," Sjouwerman continued. "He knows our industry, our organization, and our customers. Together, Krish and Lars are the right leaders, at the right time, to further build and communicate KnowBe4's leadership position and set the stage for our next chapter."
In the fourth quarter of 2019, KnowBe4 reached 54 percent growth over the fourth quarter of 2018, increasing customer accounts and achieving its 27th consecutive quarter of hypergrowth. KnowBe4 was also honored with two "best workplace" awards — one from Glassdoor for being one of the best places to work in 2020, and one from FORTUNE for being among the best small and medium workplaces of 2019.
"Under Stu's visionary leadership, KnowBe4 continues to reach new heights of success," Venkataraman said. "I am honored by the KnowBe4's confidence in me and delighted to join forces with Lars to continue moving the organization forward with a mindset of both rapid growth and rigorous discipline."
"KnowBe4 was founded on a relentless passion for helping organizations and their employees make smarter security decisions every day," Letonoff said. "More than ever, the world needs what we offer, and Krish and I are excited to work with our investors, our board, Stu, the leadership team, and the rest of our exceptional colleagues to bring KnowBe4's expertise to an ever-expanding customer base."
Today's announcement comes on the heels of the November 2019 announcement that Gerhard Watzinger, who has served as chairman of CrowdStrike's board of directors since April 2012, joined the KnowBe4 board of directors as a new independent board member.
"With today's co-president announcement and the continued development of our already stellar board, we are putting all the right pieces in place to support the next phase of our organization's exciting evolution," Sjouwerman said.
About Krish Venkataraman
Before joining KnowBe4 in September 2018, Venkataraman was a veteran Wall Street executive who held senior leadership roles at some of the world's most respected firms, including posts as CFO of Dealogic, a fintech company that serves financial firms worldwide, and where he led the company through a successful and strategic sale; and CFO and COO of Syncsort, a global leader in Big Iron to Big Data software, where he also led the successful sale of that company. Earlier roles included serving as CFO for information technology for NYSE Euronext when it was the parent company for the world's largest exchange, where he helped in the sale process to Intercontinental Exchange; chief administrative officer for U.S. equities for Lehman Brothers; and as a strategist for both American Express and Deloitte Consulting.
About Lars Letonoff
Lars Letonoff is the chief revenue officer of KnowBe4, Inc. and serves as a board observer of the organization's board of directors. He joined KnowBe4 in 2011, early in the organization's initial start-up phase, and has developed the organization's sales processes and sales team throughout the organization's many phases of growth. He is responsible for all areas of global sales, including direct sales, channel sales, customer success, business development and strategic accounts.
About KnowBe4
KnowBe4, the provider of the world's largest security awareness training and simulated phishing platform, is used by more than 31,000 organizations around the globe. Founded by IT and data security specialist Stu Sjouwerman, KnowBe4 helps organizations address the human element of security by raising awareness about ransomware, CEO fraud and other social engineering tactics through a new-school approach to awareness training on security. Kevin Mitnick, an internationally recognized cybersecurity specialist and KnowBe4's Chief Hacking Officer, helped design the KnowBe4 training based on his well-documented social engineering tactics. Tens of thousands of organizations rely on KnowBe4 to mobilize their end users as the last line of defense.
For more information, visit www.KnowBe4.com.