Workbook, poster and video module available to help families teach children how to protect themselves from online dangers
KnowBe4, the provider of the world's largest security awareness training and simulated phishing platform, today announced it is offering an interactive, no-cost, children's cybersecurity activity kit to the public.
The activity kit consists of two workbooks with puzzles and games, a poster and a video module featuring KnowBe4's security awareness hero Captain Awareness. The workbook also includes a cyber hero pledge consisting of helpful tips to help children stay safe online, along with a family agreement that parents can review with their children to set guidelines for using online devices.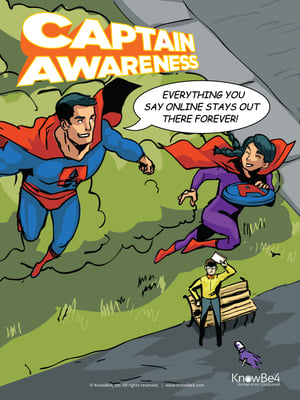 "With this activity kit, parents, teachers and other guardians have some concrete tools to help teach their children about online safety and security in a fun and engaging way," said Stu Sjouwerman, CEO, KnowBe4. "By offering these tools at no-cost, we hope to open the dialogue between children and their parents about the real threats that exist online today. Protecting our most vulnerable population from the online dangers that are out there is a top priority."
According to the Center for Cyber Safety and Education's Children's Internet Usage Study, over half (53 percent) use the internet for purposes other than homework or schoolwork seven days a week. Over a quarter (29 percent) of children admit to having used the internet in a way that their parents would not approve. And alarmingly, four out of 10 (40 percent) say they have "friended" or connected with someone they didn't know on a site or app.
"Children are casually using the internet on a daily basis without necessarily realizing the consequences of their actions," continued Sjouwerman. "We need to be more vigilant when teaching children about the power of the internet."
To download the no-cost KnowBe4 children's interactive cybersecurity activity kit, please visit https://www.knowbe4.com/cybersecurity-activity-kit.
For more information on KnowBe4, please visit www.knowbe4.com.
About KnowBe4
KnowBe4, the provider of the world's largest integrated security awareness training and simulated phishing platform, is used by more than 23,000 organizations worldwide. Founded by data and IT security expert Stu Sjouwerman, KnowBe4 helps organizations address the human element of security by raising awareness of ransomware, CEO fraud and other social engineering tactics through a new-school approach to security awareness training. Kevin Mitnick, internationally recognized computer security expert and KnowBe4's Chief Hacking Officer, helped design KnowBe4's training based on his well-documented social engineering tactics. Tens of thousands of organizations worldwide trust KnowBe4 to mobilize their employees as their last line of defense.
Number 96 on the 2018 Inc. 500 list, #34 on 2018 Deloitte's Technology Fast 500 and #2 in Cybersecurity Ventures Cybersecurity 500. KnowBe4 is headquartered in Tampa Bay, Florida with European offices in England, the Netherlands, Germany and offices in South Africa and Singapore.