Veteran Wall Street and Software Executive Has Held Senior Leadership Roles at Some of the World's Most Respected Firms
KnowBe4, the provider of the world's largest security awareness training and simulated phishing, today announced that it has named Krish Venkataraman, a seasoned finance and technology executive, as chief financial officer to support the company's rapid growth.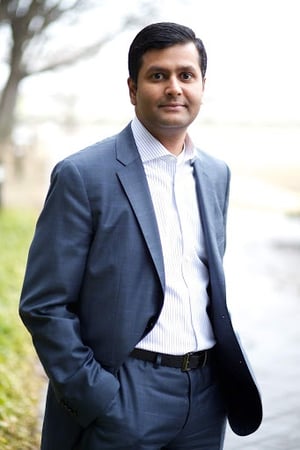 In this role, Venkataraman is responsible for all finance and internal technology teams for the company.
"As our company is in hypergrowth mode, Krish is a highly seasoned executive with a depth of knowledge in key industries that are critical to our success, from fintech to software, and has experience managing category-leading businesses at scale," said KnowBe4 CEO Stu Sjouwerman. "He has held senior leadership roles at some of the world's most respected firms, helped create billions in new financing for acquisitions and expansions, and created significant value for shareholders and firms' employees. He also brings experience in acquisitions, streamlining technology, building a go-to-market strategy, and creating world-class operations — all of which are crucial at this moment in our expansion."
Venkataraman most recently served as CFO of Dealogic, a fintech company that offers integrated content, analytics and technology via targeted products and services to financial firms worldwide. In that role, he led the company through a successful and strategic sale in December 2017. Prior to Dealogic, Venkataraman served as CFO and COO of Syncsort, a global leader in Big Iron to Big Data software, where he also led the successful sale of that company.
Earlier roles included serving as CFO for information technology for NYSE Euronext when it was the parent company for the world's largest exchange, where he helped in the sale process to Intercontinental Exchange; chief administrative officer for U.S. equities for Lehman Brothers; and as a strategist for both American Express and Deloitte Consulting.
"Stu and his management team have made KnowBe4 the unrivaled leader in this space, and I am delighted to join a company that is on the cutting edge of protecting organizations throughout the world," Venkataraman said. "Having worked at NYSE Euronext when it was the parent company for the world's largest exchange and at Dealogic — which has a presence in all of the top investment banks and a number of large hedge funds, consulting firms and financial media outlets — I've had a front row seat on the world's financial network. I know that one of the biggest risks every company faces today is cybersecurity. KnowBe4 tackles the weakest link, individual employees, and through its training and technology platform, makes employees the strongest link in protecting the company. I am passionate about this company's mission and Stu's bold vision for the future."
Venkataraman is a sought-after expert and thought leader, with appearances in outlets such as Forbes, CFO.com, FierceCFO, Wealth & Finance International, Bloomberg Radio and others, and as a featured speaker at major conferences such as Strata + Hadoop World's conference on Big Data. He was also previously named CFO of the Year by Acquisition International. Venkataraman holds a Master of Business Administration from Cornell University and a Bachelor of Science in finance from Carnegie Mellon University.
About KnowBe4
KnowBe4, the provider of the world's largest integrated security awareness training and simulated phishing platform, is used by more than 20,000 organizations worldwide. Founded by data and IT security expert Stu Sjouwerman, KnowBe4 helps organizations address the human element of security by raising awareness of ransomware, CEO fraud and other social engineering tactics through a new-school approach to security awareness training. Kevin Mitnick, internationally recognized computer security expert and KnowBe4's Chief Hacking Officer, helped design KnowBe4's training based on his well-documented social engineering tactics. Tens of thousands of organizations worldwide trust KnowBe4 to mobilize their employees as their last line of defense.
Number 96 on the 2018 Inc. 500 list, #70 on 2017 Deloitte's Technology Fast 500 and #2 in Cybersecurity Ventures Cybersecurity 500. KnowBe4 is headquartered in Tampa Bay, Florida with European offices in England, the Netherlands, Germany and offices in South Africa and Singapore.