KnowBe4 has been named to #GirlsClub's annual list of the Top 25 Companies Where Women Want to Work
KnowBe4, the provider of the world's largest security awareness training and simulated phishing platform, today announced it has been included on #GirlsClub's 2023 Top 25 Companies Where Women Want to Work list.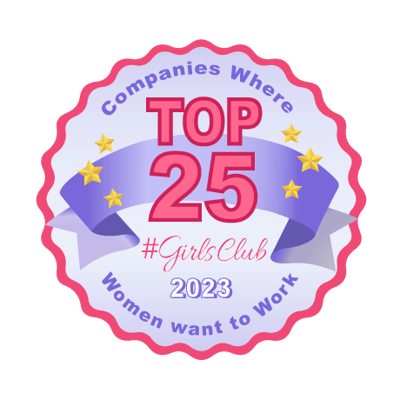 According to #GirlsClub Founder, Lauren Bailey, "We're pleased to recognize companies making efforts to recruit, support, and promote diversity in their workplace. Today's employees are savvy researchers, and we hope this list will help women target companies where they will be happy to grow their careers."
All companies on the list went through an initial nomination round where employees shared how their company supports its female workforce, from paid maternity leave benefits, to offering ongoing training and development, to promoting pay equity, and more.
The main criteria used when comparing applicants and selecting the companies to include on this year's list were:

Overall total number of votes

Partnerships with programs like #GirlsClub to support their female workforce

Number of DEI awards or other similar types of awards/list recognition received

Number of women on their leadership team and diversity of their workforce
"KnowBe4 is committed to diversity, equity, and inclusion, with over 40% of our workforce being women—double the industry average," said Ani Banerjee, chief human resources officer, KnowBe4. "We empower the next generation of women sales leaders through tools such as certifications and scholarships opportunities, inclusive benefits, and our Women in Tech employee resource group. We are excited to continue supporting #GirlsClub's mission worldwide and we are thrilled to be acknowledged as one of the Top 25 Workplaces for Women in 2023. As a global company, we are fortunate to have an outstanding team consisting of remarkable women from diverse cultural backgrounds."
#GirlsClub received votes from over 2,400 employees at more than 155 companies across the globe.
See the #GirlsClub 2022 Top 25 Companies Where Women Want to Work list right here. To view open KnowBe4 positions, visit https://www.knowbe4.com/careers.
About #GirlsClub
#GirlsClub is committed to changing the face of sales by empowering more women to earn roles in leadership, helping reverse the zero-growth trend of women leaders in sales. They address this by providing a cross-company community plus a six-month, exclusive training program for women who are either an aspiring sales manager ready to advance their career or an existing sales manager who needs more skill development, mentoring, or support. Learn more about #GirlsClub here: wearegirlsclub.com/
About KnowBe4
KnowBe4, the provider of the world's largest security awareness training and simulated phishing platform, is used by more than 65,000 organizations around the globe. Founded by IT and data security specialist Stu Sjouwerman, KnowBe4 helps organizations address the human element of security by raising awareness about ransomware, CEO fraud and other social engineering tactics through a new-school approach to awareness training on security. The late Kevin Mitnick, who was an internationally recognized cybersecurity specialist and KnowBe4's Chief Hacking Officer, helped design the KnowBe4 training based on his well-documented social engineering tactics. Organizations rely on KnowBe4 to mobilize their end users as their last line of defense and trust the KnowBe4 platform to strengthen their security culture and reduce human risk.