2023 marks the sixth consecutive year KnowBe4 has ranked as best workplaces for millennials and the first year as a UK best workplace for women
KnowBe4, the provider of the world's largest security awareness training and simulated phishing platform, today announced it has been named a 2023 Best Workplaces for Millennials by Great Place To Work® and Fortune magazine. This is KnowBe4's sixth time being named to this prestigious list, this year coming in at number 40. Earning a spot means that KnowBe4 has surpassed rigorous benchmarks, establishing itself as one of the best companies to work for in the country.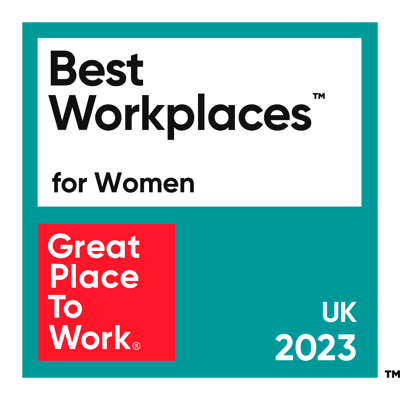 Additionally, KnowBe4 today announced it has been named a recipient of 2023 UK's Best Workplace™ for Women. Earning this spot exemplifies KnowBe4 as an organization where people trust each other and employees are able to reach their full potential, no matter who they are or what they do.
The Best Workplaces for Millennials and UK's Best Workplace™ for Women lists are highly competitive. Survey responses reflect a comprehensive picture of the workplace experience. Honorees were selected based on their ability to offer positive outcomes for employees regardless of job role, race, gender, sexual orientation, work status, or other demographic identifier.
"KnowBe4 is thrilled to once again be recognized as a best workplace for millennials for the sixth consecutive year and to be recognized as a UK best workplace for women," said Ani Banerjee, CHRO, KnowBe4. "We work hard to cultivate a workplace culture that aligns with what our millennial and women employees value most, including offering flexible work location options and hours, career coaching and growth opportunities, community support and volunteering, fostering a transparent work environment and more. Our incredible millennial and women employees from around the world make up 65% and 42% of our organization, respectively, significantly contributing to the award-winning culture for which KnowBe4 has been recognized."
"With the largest share of the workforce today, the workplace experience of millennials says a lot about your organization," says Michael C. Bush, CEO of Great Place To Work. "These workers are looking for authentic leadership, meaningful work, and a healthy work environment — and they show loyalty to those who can deliver."
"Congratulations to all of the Best Workplaces for Millennials finalists," says Fortune Editor-in-Chief Alyson Shontell. "These companies are setting themselves up for continued success by committing to the purpose-driven work that attracts the next generation of business talent."
"We're delighted to announce our 2023 collection of the Best Workplaces™ for Women for the sixth consecutive year," said Benedict Gautrey, Managing Director of Great Place to Work® UK. "This list celebrates the workplaces that are not just providing a great work environment for all, but are ensuring they're creating a positive and supportive environment for women too. Each of the companies on our list have been commended by their own female employees who have anonymously told us their workplace has gone above and beyond to ensure that women employees are treated fairly in terms of recognition, training, and promotion opportunities. Ensuring people are not discriminated against, placing positive value on our differences, creating fair access and advancement for all, and fostering a sense of value and empowerment in employees is what being a Great Place to Work® is all about. It is fantastic to once again celebrate so many Best Workplaces™ for Women this year, across all sectors and organizational sizes."
In 2022, KnowBe4 also ranked as a Best Workplace for Millennials™, Technology, Women and Medium-sized organization. Additionally, KnowBe4 was named to the PEOPLE Companies That Care® list. KnowBe4 also ranked as a UK Best Workplaces for Wellbeing in 2022 and 2023 and as a 2022 UK Best Workplace.
To learn more about KnowBe4 as a Best Workplace in the US and UK, visit here and here.
About KnowBe4
KnowBe4, the provider of the world's largest security awareness training and simulated phishing platform, is used by more than 60,000 organizations around the globe. Founded by IT and data security specialist Stu Sjouwerman, KnowBe4 helps organizations address the human element of security by raising awareness about ransomware, CEO fraud and other social engineering tactics through a new-school approach to awareness training on security. Kevin Mitnick, an internationally recognized cybersecurity specialist and KnowBe4's Chief Hacking Officer, helped design the KnowBe4 training based on his well-documented social engineering tactics. Tens of thousands of organizations rely on KnowBe4 to mobilize their end users as their last line of defense.
About the Fortune Best Workplaces for Millennials List
Great Place To Work selected the Fortune Best Workplaces for Millennials List by surveying companies employing 7.5 million people in the U.S. with 1.3 million confidential survey responses received. Of those, nearly 500,000 responses were received from millennials at companies eligible for the list and these rankings are based on that feedback. Read the full methodology.
To get on this list next year, start here.
About Great Place To Work
As the global authority on workplace culture, Great Place To Work brings 30 years of groundbreaking research and data to help every place become a great place to work for all. Their proprietary platform and For All™ Model help companies evaluate the experience of every employee, with exemplary workplaces becoming Great Place To Work Certified™ or receiving recognition on a coveted Best Workplaces™ List.
Follow Great Place To Work on LinkedIn, Twitter, and Instagram or visit greatplacetowork.com and sign up for the newsletter to learn more.
About Fortune
The Fortune mission is to change the world by making business better. We achieve that by providing trusted information, telling great stories, and building world-class communities. We measure performance by rigorous benchmarks. And we hold companies accountable. Our goal is to make Fortune a force for good through its second century and beyond. For more information, visit www.fortune.com.