KnowBe4 receives two Expert Insights awards, recognizing its effective security awareness training and simulated phishing platform
KnowBe4, provider of the world's largest security awareness training and simulated phishing platform, has been awarded a Fall 2022 Expert Insights "Best-Of" award for its phishing simulation and security awareness training solutions.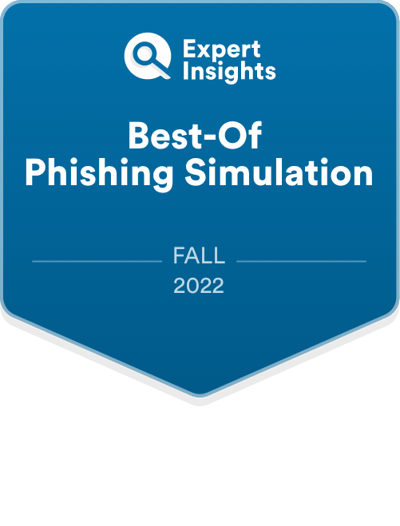 Expert Insights' Best-Of Awards recognize exceptional cybersecurity providers across multiple categories including cloud software, security, and storage, highlighting up to 11 vendors in each category.
Their Best-Of award winners are carefully chosen by its inhouse team of editors, based on extensive research into each solution's merits for its performance and functionality, customer reviews and how they compare to other vendors in the market.
All recipients of these awards were specifically selected for their outstanding features, strong capabilities, and positive user experiences. Expert Insights also takes into consideration pricing, target markets and the deployment process when selecting the top vendors.
You can view the full list of Expert Insights award winners here.
"Providing an exceptional security awareness training and a simulated phishing platform is at the core of what we do here at KnowBe4," said Stu Sjouwerman, CEO, KnowBe4. "We continuously enhance our platform with fresh content to reflect the current cybersecurity threats in order to best educate our customer's users and prepare them for realistic social engineering attacks. KnowBe4 is grateful to be recognized for this award as it is a testament to the hard work our employees put into creating the best, most impactful products for our users."
For more information on KnowBe4, visit www.knowbe4.com.
About KnowBe4
KnowBe4, the provider of the world's largest security awareness training and simulated phishing platform, is used by more than 52,000 organizations around the globe. Founded by IT and data security specialist Stu Sjouwerman, KnowBe4 helps organizations address the human element of security by raising awareness about ransomware, CEO fraud and other social engineering tactics through a new-school approach to awareness training on security. Kevin Mitnick, an internationally recognized cybersecurity specialist and KnowBe4's Chief Hacking Officer, helped design the KnowBe4 training based on his well-documented social engineering tactics. Tens of thousands of organizations rely on KnowBe4 to mobilize their end users as their last line of defense.
About Expert Insights
Expert Insights is an online publication with editorial and technical teams based in both the UK and US focusing on cloud-based business technologies. They showcase research on hundreds of B2B cybersecurity solutions, with in depth editorial buyers' guides, blog articles, industry analyses, interviews and technical product reviews written by industry experts.
Over 80,000 business owners, IT admins and users visit Expert Insights each month to help make the right buying decisions with confidence.