KnowBe4 recognized as top workplace in small, medium and now large business
categories over the last four years due to hypergrowth
KnowBe4, the provider of the world's largest security awareness training and simulated phishing today announced it has been recognized as the number one best place to work by the Tampa Bay Times in the large business category making it a first for an organization to win all categories, small, medium and large, during its hypergrowth. KnowBe4 was also given special recognition for the direction of the organization.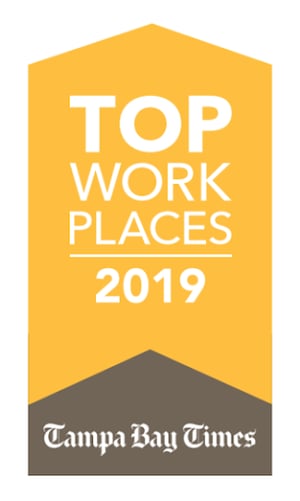 In the Tampa Bay region, more than 190 leading companies were surveyed. To be considered for participation, companies or government entities had to employ at least 50 workers in Florida and be at least a year old. KnowBe4's employees were surveyed about several topics, including practices and policies that make these companies the top places to work.
"We're elated to be named top workplace by the Tampa Bay Times for the fourth consecutive year," said Stu Sjouwerman, CEO, KnowBe4. "We're in a unique position being named the number one workplace in three different categories over the last four years. That's never happened before. I've focused a lot over the last few years on enhancing the culture of the organization, and this recognition is validation that we must be doing something right."
The Top Workplaces 2019 in Tampa Bay program was created by the Tampa Bay Times and Energage. This is the section's 10-year anniversary.
The companies were ranked based on leadership, compensation and training, workplace flexibility, and diversity. The rankings were published on Friday, April 5 on TampaBay.com and were featured in the April 7 edition of the Tampa Bay Times and on April 11 in tbt*.
"Over the past decade, we've recognized more than 300 Top Workplaces and shared stories from their employees about what makes them special," said Times Business Editor Bill Varian. "This year's list once again showcases a strong mix of returning leaders and newcomers, each with lessons to offer."
For a complete list of the 2019 Top Workplaces in Tampa Bay, go to www.tampabay.com/topworkplaces.
About KnowBe4
KnowBe4, the provider of the world's largest security awareness training and simulated phishing platform, is used by more than 24,000 organizations around the globe. Founded by IT and data security specialist Stu Sjouwerman, KnowBe4 helps organizations address the human element of security by raising awareness about ransomware, CEO fraud and other social engineering tactics through a new-school approach to awareness training on security. Kevin Mitnick, an internationally recognized cybersecurity specialist and KnowBe4's Chief Hacking Officer, helped design the KnowBe4 training based on his well-documented social engineering tactics. Tens of thousands of organizations rely on KnowBe4 to mobilize their end users as the last line of defense.
Number 96 on the list Inc. 500 of 2018, number 34 on 2018's Deloitte's Technology Fast 500, and 2nd place in Cybersecurity Ventures Cybersecurity 500, KnowBe4 is headquartered in Tampa Bay, Florida, with offices in Brazil, England, the Netherlands, Germany, South Africa and Singapore.
About the Tampa Bay Times
The Tampa Bay Times is widely considered one of the Top Ten newspapers in America and has won 12 Pulitzer Prizes. It is Florida's largest newspaper and publishes tampabay.com - Tampa Bay's largest local news Web site. Additionally, the company publishes the free weekly tbt*, an edition of the Tampa Bay Times, and Bay magazine
About Energage
Energage is one of the largest workplace survey providers in the United States. Each year it surveys thousands of companies and partners with leading media organizations to produce definitive Top Workplaces lists. Using proprietary, cutting-edge online applications, Energage is bringing employee engagement to the web.