KnowBe4 offering employees additional compensation and fun benefits in midst of COVID-19 pandemic
KnowBe4, the provider of the world's largest security awareness training and simulated phishing platform, today announced that in an incredible effort involving IT, HR and other key departments, it has mobilized its entire workforce of 884 global employees to work from home in only one day, beginning yesterday, March 18.
To help its workforce amidst the COVID-19 pandemic, KnowBe4 is offering every employee US $200 in additional compensation to help offset any extra costs they may incur for internet or phone, and for benefits they receive in the office such as free snacks and end of month lunches.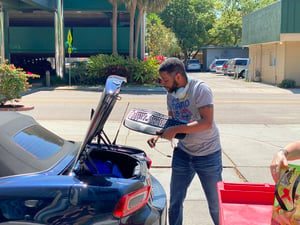 "KnowBe4 thrives on an upbeat, in-person team atmosphere within all of our offices around the world, so setting up all 884 employees to work from home in just one day was a massive challenge," said Stu Sjouwerman, CEO, KnowBe4. "I'm especially grateful to each member of our incredible IT department who took strategic steps to order extra equipment, train staff and to develop best practices for working from home very quickly. Despite the situation the world is in at the moment, KnowBe4 is making the best of it while remaining productive and focused on our goals."
KnowBe4 has set up an entire work from home channel on the organization's intranet. Employees have taken to it to have some fun and share what their kids are doing throughout the day while they're at home, only they have replaced the word "kids" with "coworker". Here are some examples:
Carly S: "My coworker refused to put on pants this morning."
Ahmed H: "My coworker has a face tattoo and tried to run over my other coworker with a Jeep."
Matthew S: "I promoted my coworker to director of personnel. Her job is to make sure that her one and only subordinate doesn't throw anything else into the toilets."
KnowBe4 is currently hiring for 130 positions and continues to conduct interviews with job candidates via phone and video conferencing. For more information on KnowBe4 jobs, visit https://www.knowbe4.com/jobs.
About KnowBe4
KnowBe4, the provider of the world's largest security awareness training and simulated phishing platform, is used by more than 31,000 organizations around the globe. Founded by IT and data security specialist Stu Sjouwerman, KnowBe4 helps organizations address the human element of security by raising awareness about ransomware, CEO fraud and other social engineering tactics through a new-school approach to awareness training on security. Kevin Mitnick, an internationally recognized cybersecurity specialist and KnowBe4's Chief Hacking Officer, helped design the KnowBe4 training based on his well-documented social engineering tactics. Tens of thousands of organizations rely on KnowBe4 to mobilize their end users as the last line of defense.