KnowBe4 releases training in 26 languages to combat the exploding threats of ransomware and CEO email fraud giving companies a global tool to manage risks associated with social engineering.
(Tampa Bay, FL) July 27, 2016 -- KnowBe4 Inc., the most popular integrated platform for security awareness training and simulated phishing tests, released its Kevin Mitnick Security Awareness Training in twenty-six language versions. The interactive, on-demand computer-based training covers high-risk topics and how to identify red flags such as the current ransomware epidemic, the W-2 scam and CEO email fraud which are costing the economy billions of dollars.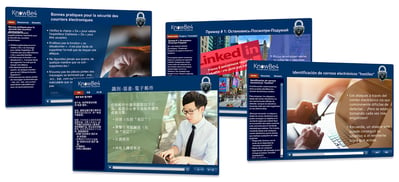 The released languages include Danish, Dutch, English, French, German, Hebrew, Spanish, Italian, Japanese, Mandarin, Korean, Portuguese, Russian, Swedish, Polish, Finnish, Hungarian, Norwegian, Arabic and multiple dialects of key languages.
An updated FBI alert issued in June, 2016 warned of a massive increase in CEO fraud to the tune of 3.1 billion dollars, up from 2.3 billion noted in April, 2016. Companies are now realizing they cannot keep doing the same old annual awareness training, as threats are evolving much faster.
KnowBe4's CEO Stu Sjouwerman stated, "Employees are the weakest link in your network security and you need effective security awareness training to keep on top of furiously innovating cybercrime. The new features we are announcing were previously out of reach for IT managers with limited budget, and we have worked hard to make effective training and frequent simulated phishing affordable for these companies."
KnowBe4's Chief Hacking Officer Kevin Mitnick stated "Our new EZXploit feature truly assesses whether your business can be exploited by the bad guys. Just clicking on a link sent in email alone doesn't mean your business can be successfully phished. The true test is to determine whether the user can be exploited. EZXploit allows you evaluate that risk."
The new advanced features include:
EZXploit™: Includes patent pending functionality that allows an internal, fully automated "human pentest". By launching a simulated phishing attack, which when clicked, comes up with a secondary ruse like a Java popup that the user is further social engineered to click on. No malicious action is performed but the process allows IT to see which data is accessible and users most prone to click by scanning info such as user name, IP address, a user's workstation and Active Directory info.
USB Drive Test™: A customer can download a special, "beaconized" Microsoft Office file from the KnowBe4 admin console onto a USB drive which can then be dropped at an on-site, high traffic area. If an employee picks up the USB drive, plugs it in their workstation, and opens the file, it will "call home" and report the fail.
GEO-location was added by KnowBe4 to its phishing templates, allowing an admin to see where simulated phishing attack failures are on a map, with drilldown capability and CSV-export options. This is highly useful for multi-site offices and road warriors alike.
KnowBe4's program provides a comprehensive new-school approach that integrates baseline testing using mock attacks, engaging web-based training and continuous assessment through simulated phishing, vishing or smishing attacks to build a more resilient and secure organization. KnowBe4 also provides "double-random" message delivery with hundreds of highly realistic phishing messages, spread over time. Every employee receives a different phishing email at a different time, eliminating the "prairie dog" effect.. Automated phishing campaigns with unlimited usage and community templates help keep IT efforts current.
The strong demand for KnowBe4's training has fueled unparalleled growth for 12 straight quarters.
For more information, visit www.KnowBe4.com
About Stu Sjouwerman and KnowBe4
Stu Sjouwerman (pronounced "shower-man") is the founder and CEO of KnowBe4, Inc., which hosts the world's most popular integrated Security Awareness Training and Simulated Phishing platform. A data security expert with more than 30 years in the IT industry, Sjouwerman was the co-founder of Inc. 500 company Sunbelt Software, a multiple award-winning, anti-malware software company that was acquired in 2010. Realizing that the human element of security
was being seriously neglected, Sjouwerman decided to help organizations manage the problem of cybercrime social engineering tactics through new school security awareness training.Thousands of organizations, in a variety of industries, including highly-regulated fields, such as healthcare, finance, energy, government, and insurance have mobilized their end users as a first line of defense using KnowBe4. Sjouwerman is the author of four books, with his latest being "Cyberheist: The Biggest Financial Threat Facing American Businesses." For more information, visit www.knowbe4.com and follow @StuAllard on Twitter.
About Kevin Mitnick
Kevin Mitnick, 'the World's Most Famous Hacker', is an internationally recognized computer security expert with extensive experience in exposing the vulnerabilities of complex operating systems and telecom devices. He gained notoriety as a highly skilled hacker who penetrated some of the most resilient computer systems ever developed. Today, Mitnick is renowned as an information security consultant and keynote speaker and has authored four books, including The New York Times best seller Ghost in the Wires. His latest endeavor is a collaboration with KnowBe4, LLC as its Chief Hacking Officer.