Virtual Risk OfficerTM and other new innovations improve strength of human firewall and examine how risk changes over time
KnowBe4, the provider of the world's largest security awareness training and simulated phishing platform, continues to innovate and improve how organizations include their biggest asset – their people – into their security posture. KnowBe4 today announced its Virtual Risk OfficerTM (VRO) and Advanced Reporting features, industry firsts that utilize artificial intelligence (AI) and are in direct response to customer feedback for deeper reporting and more insight into organizational cybersecurity risk.
"KnowBe4 is an InfoSec organization first, and we're always researching how we can help existing and future customers better protect themselves from social engineering threats that are increasing in frequency and sophistication," said Stu Sjouwerman, CEO of KnowBe4. "Our Virtual Risk Officer and Advanced Reporting features are the latest in a long line of innovations designed to look deeply into an organization and provide the most accurate view of the effectiveness of their security awareness training program. We've integrated a deep learning neural network that evaluates how risk changes over time within an organization, which helps cybersecurity professionals measure how their security awareness program performs."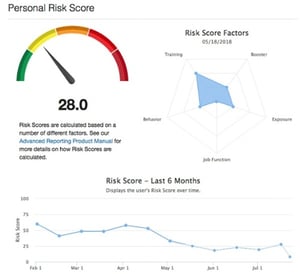 The new features in detail include:
Virtual Risk Officer – Helps security or IT professionals identify risk at the user, group or organizational level, resulting in better decision making for their security awareness plans.
Virtual Risk Score – A supplement to the VRO, the Virtual Risk Score alerts which users or groups are particularly vulnerable to social engineering attacks. These scores help organizations identify which groups are most apt to click on a phishing link, who has or has not been trained and which are the highest-risk groups.
Advanced Reporting – Gives access to more than 60 built-in reports with insights that give a holistic view of the entire organization over time. Each report, which formerly took hours to create and are now available immediately, gives visibility into the organization's security awareness performance based on trainings taken and simulated phishing data.
Group Report Card & Phish-Prone Percentage – This report helps IT and security managers better understand how groups are performing, how often they responded to a simulated phishing email, and how much time they have spent training.
Sjouwerman continued, "We have tens of thousands of customers and wanted to respond to their needs for more direct insight into how their organization evaluates risk, and give them real tools to see how their security awareness training program is performing. IT, the security teams and HR absolutely have to know the propensity for risk their users bring to the table, so they can turn that vulnerability into a strength."
VRO and Advanced Reporting are available now for KnowBe4's paid customers. For more information or to sign up for the advanced reporting and risk feature, visit https://www.knowbe4.com/virtual-risk-officer-advanced-reporting.
About KnowBe4
KnowBe4, the provider of the world's largest integrated security awareness training and simulated phishing platform, is used by more than 20,000 organizations worldwide. Founded by data and IT security expert Stu Sjouwerman, KnowBe4 helps organizations address the human element of security by raising awareness of ransomware, CEO fraud and other social engineering tactics through a new-school approach to security awareness training. Kevin Mitnick, internationally recognized computer security expert and KnowBe4's Chief Hacking Officer, helped design KnowBe4's training based on his well-documented social engineering tactics. Tens of thousands of organizations worldwide trust KnowBe4 to mobilize their employees as their last line of defense.
Number 96 on the 2018 Inc. 500 list, #70 on 2017 Deloitte's Technology Fast 500 and #2 in Cybersecurity Ventures Cybersecurity 500. KnowBe4 is headquartered in Tampa Bay, Florida with European offices in England, the Netherlands, Germany and offices in South Africa and Singapore.