PhishML is a machine-learning module within KnowBe4's PhishER platform that makes prioritization of suspicious messages easier, faster and more accurate
KnowBe4, the provider of the world's largest security awareness training and simulated phishing platform, today announced PhishML (Machine Learning), a new machine-learning module within the PhishER platform to help security professionals identify and assess suspicious messages.
PhishML analyzes every message coming into the PhishER platform and gives security professionals the information they need to make prioritization easier, faster and more accurate. This machine-learning module constantly learns based on messages that are tagged by security professionals in the PhishER user community. PhishML will assign tags along with confidence levels using the data from all user-reported email messages. By using the default settings, PhishML will tag more than half of reported messages and has a current prediction accuracy of more than 95%.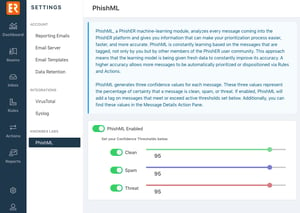 "Approximately 10 percent of suspicious email messages are getting through spam filters," said Stu Sjouwerman, CEO, KnowBe4. "That means users are the last line of defense, so they need to be aware of what to look out for when it comes to phishing and other social engineering attacks. The benefits of the PhishML module coupled with our robust PhishER platform include making the identification of real threats a much quicker and more accurate process."
PhishML is available to KnowBe4's PhishER customers at no additional cost. For more information on PhishML, visit https://www.knowbe4.com/products/phisher.
About KnowBe4
KnowBe4, the provider of the world's largest security awareness training and simulated phishing platform, is used by more than 27,000 organizations around the globe. Founded by IT and data security specialist Stu Sjouwerman, KnowBe4 helps organizations address the human element of security by raising awareness about ransomware, CEO fraud and other social engineering tactics through a new-school approach to awareness training on security. Kevin Mitnick, an internationally recognized cybersecurity specialist and KnowBe4's Chief Hacking Officer, helped design the KnowBe4 training based on his well-documented social engineering tactics. Tens of thousands of organizations rely on KnowBe4 to mobilize their end users as the last line of defense.
Number 96 on the 2018 Inc. 500 list, #34 on 2018 Deloitte's Technology Fast 500 and #2 in Cybersecurity Ventures Cybersecurity 500. KnowBe4 is headquartered in Tampa Bay, Florida with European offices in England, the Netherlands, Germany and offices in Brazil, South Africa and Singapore.