KnowBe4 is offering a no-cost cybersecurity resource kit to help end users strengthen their defenses against phishing
KnowBe4, the provider of the world's largest security awareness training and simulated phishing platform, today announced the release of its phishing security resource kit to help end users defend themselves and their organizations against the threat of phishing attacks.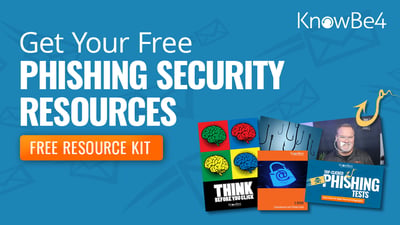 Phishing is a social engineering scheme in which bad actors attempt to acquire sensitive information from users such as login credentials and credit card information or trick them into clicking on an infected link or attachment that can download malware by disguising the email as being from a trustworthy entity like a known contact or organization. Over 90% of successful data breaches and hacks start with phishing scams — it is the most common form of social engineering and a threat to every end user and organization around the world.
KnowBe4's phishing security resource kit will include user resources such as access to a free on-demand webinar on phishing mitigation, KnowBe4's most popular phishing white paper, "Comprehensive Anti-Phishing Guide E-Book", a video on how to avoid phishing attacks, infographics, posters, digital signage and more.
"Phishing remains one of the most dangerous threats to users and organizations because of how easily it can be disguised and its potential to cause detrimental harm and fallout," said Stu Sjouwerman, CEO, KnowBe4. "KnowBe4 recognizes the significance of this threat, which is why we are dedicated to producing world-class, new-school security awareness training and resources to educate users on the signs of phishing scams and how to best prepare and defend against them. Our new phishing security resource kit enables end users and organizations to strengthen their security culture and make smarter security decisions."
To download the KnowBe4 Phishing Security Resource Kit, visit https://www.knowbe4.com/phishing-resource-kit.
About KnowBe4
KnowBe4, the provider of the world's largest security awareness training and simulated phishing platform, is used by more than 56,000 organizations around the globe. Founded by IT and data security specialist Stu Sjouwerman, KnowBe4 helps organizations address the human element of security by raising awareness about ransomware, CEO fraud, and other social engineering tactics through a new-school approach to awareness training on security. Kevin Mitnick, an internationally recognized cybersecurity specialist, and KnowBe4's Chief Hacking Officer, helped design the KnowBe4 training based on his well-documented social engineering tactics. Tens of thousands of organizations rely on KnowBe4 to mobilize their end users as their last line of defense.