KnowBe4 is offering a no-cost password kit to help end users practice good password hygiene and strengthen their defenses against social engineering
KnowBe4, the provider of the world's largest security awareness training and simulated phishing platform, today announced the launch of a new password kit to help end users and organizations practice good password hygiene in recognition of World Password Day.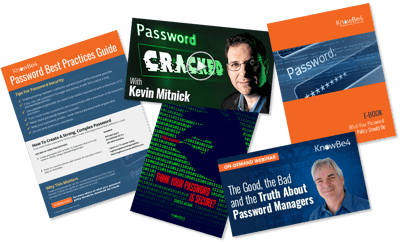 Passwords are an integral part of so many daily lives and routines. They are the key to accessing some of the most important resources people rely on every day to unlock phones, log in to work devices, email, bank accounts and so much more. According to Verizon's 2022 Data Breach Investigations Report, 80% of an organization's breaches can be attributed to stolen credentials (usernames and passwords). Additionally, the report credits the use of stolen credentials as the second biggest threats to businesses, following ransomware. Because of this, having strong, unique passwords for any and all accounts is essential to protecting and securing privacy.
KnowBe4's password kit will include user resources such as access to a free on-demand webinar titled "The Good, the Bad and the Truth About Password Managers" featuring Roger A. Grimes, KnowBe4's data-driven defense evangelist, KnowBe4's most popular password whitepaper, "What Your Password Policy Should Be e-Book", password hacking demo videos from Kevin Mitnick, a password best practices guide and more.
"It is imperative that all end users and organizations take password security seriously; one cracked password can have detrimental effects on multiple aspects of life, both professionally and personally," said Stu Sjouwerman, CEO, KnowBe4. "KnowBe4 recognizes the significance of this vulnerability, which is why we are acknowledging World Password Day with the launch of our new password kit. This kit features helpful tools and resources that enable end users to make smart password choices and practice good password hygiene in order to better protect themselves and strengthen the overall security culture of their organization."
To download the KnowBe4 Password Kit, visit https://www.knowbe4.com/password-resource-kit.
About KnowBe4
KnowBe4, the provider of the world's largest security awareness training and simulated phishing platform, is used by more than 56,000 organizations around the globe. Founded by IT and data security specialist Stu Sjouwerman, KnowBe4 helps organizations address the human element of security by raising awareness about ransomware, CEO fraud and other social engineering tactics through a new-school approach to awareness training on security. Kevin Mitnick, an internationally recognized cybersecurity specialist and KnowBe4's Chief Hacking Officer, helped design the KnowBe4 training based on his well-documented social engineering tactics. Tens of thousands of organizations rely on KnowBe4 to mobilize their end users as their last line of defense.