New complimentary tool identifies at-risk end-users by querying business social media information and hundreds of breach databases
KnowBe4, the provider of the world's largest security awareness training and simulated phishing platform, today announced a new complimentary tool aimed at helping organizations tackle at-risk employees. The Password Exposure Test allows security professionals to run an in-depth discovery and analysis of their organization's potential risk associated with their accounts and end-users' email addresses and passwords.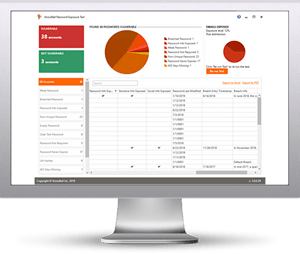 According to the 2018 Verizon Data Breach Report, 81 percent of hacking-related breaches used either stolen and/or weak passwords. New data from Dark Reading's annual Strategic Security Survey finds that 44 percent of organizations say authorized users and employees pose the greatest threat to data security. And 61 percent of organizations believe negligent users will be the primary cause of a data breach in the next 12 months.
The new Password Exposure Test tool checks to see if user accounts or email addresses have been in a data breach associated with the organization's domain. It also checks to see whether an organization's users are currently using weak passwords or passwords that have been compromised in a data breach.
"Understanding who your most vulnerable users are will help you make better risk-based business decisions," said Stu Sjouwerman, CEO, KnowBe4. "It will also allow you to tailor your security awareness training to that at-risk group to help make them a stronger 'human firewall'. It's important to understand that users are the principal reason why your organization may face a hacked network or data breach. A tool like the new Password Exposure Test can help you better manage user risks within your organization."
This tool is no-charge and can be downloaded from KnowBe4 at: https://www.knowbe4.com/password-exposure-test.
For more information on KnowBe4, the Password Exposure Test or other free tools, visit www.knowbe4.com.
About KnowBe4
KnowBe4, the provider of the world's largest integrated security awareness training and simulated phishing platform, is used by more than 22,000 organizations worldwide. Founded by data and IT security expert Stu Sjouwerman, KnowBe4 helps organizations address the human element of security by raising awareness of ransomware, CEO fraud and other social engineering tactics through a new-school approach to security awareness training. Kevin Mitnick, internationally recognized computer security expert and KnowBe4's Chief Hacking Officer, helped design KnowBe4's training based on his well-documented social engineering tactics. Tens of thousands of organizations worldwide trust KnowBe4 to mobilize their employees as their last line of defense.
Number 96 on the 2018 Inc. 500 list, #34 on 2018 Deloitte's Technology Fast 500 and #2 in Cybersecurity Ventures Cybersecurity 500. KnowBe4 is headquartered in Tampa Bay, Florida with European offices in England, the Netherlands, Germany and offices in South Africa and Singapore.