RanSim is Free and Helps Businesses of All Sizes Check Effectiveness of Network Security Against Ransomware
(Tampa Bay, FL) October 19, 2016 – Ransomware infections continue to skyrocket and social engineering tactics are helping cybercriminals get past network security software all too often. To help organizations better protect against the most successful cybercrime business model ever, KnowBe4, provider of the most popular platform for security awareness training and simulated phishing attacks, today launched RanSim, the industry's first ransomware simulator. RanSim is free for any organization that wants to test the effectiveness of its network security, gain a better understanding of how vulnerable its users are to attacks, and take steps to improve its ransomware defenses.
Ransomware is on track to net organized cybercrime more than $1 billion in 2016, not taking downtime and other costs associated with it into account. Most endpoint protection is, at best, moderately effective in blocking variants, and many antivirus products do not catch anything. The FBI issued a PSA on September 16, 2016 urging ransomware victims to report infections to help them gain a comprehensive view of the current threat. Ninety-three percent of IT professionals surveyed in KnowBe4's 2016 Ransomware Report are worried ransomware will continue to grow. Organizations need to have insight into how well-protected they are from ransomware.
Useful for both small- and mid-sized businesses and large organizations, RanSim enables IT pros to quickly assess if their endpoint protection software is effective, and, if not, put in place supplemental protection like security awareness training.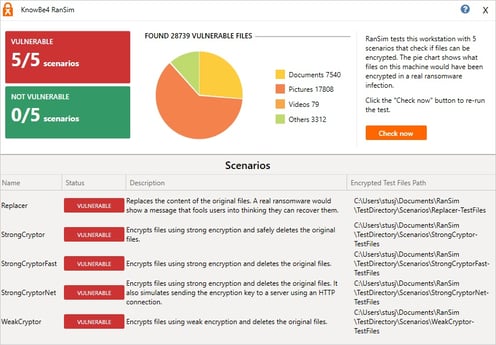 RanSim, a harmless simulation of a real ransomware infection, includes:
Five types of infection scenarios to test;
Results in a few minutes;
Compatibility to test on Windows 7 and up; and
Non-destructive test files.
"We created RanSim as a simple way for IT professionals to test their organization's level of vulnerability as cybercriminals are constantly coming out with new strains and versions of ransomware," said Stu Sjouwerman, chief executive officer, KnowBe4. "Ransomware attacks do not discriminate – small- and medium-sized businesses and large enterprises are all at risk and need to do what they can to protect themselves. We are distributing RanSim free of charge to help IT managers identify weaknesses in their networks, put stronger defense-in-depth strategies in place and stop the spread of ransomware."
RanSim is available today. More information is available at: https://www.knowbe4.com/ransomware-simulator
About KnowBe4
KnowBe4, the provider of the world's most popular integrated new school security awareness training and simulated phishing platform, is used by more than 6,000 organizations worldwide. Founded by data and IT security expert Stu Sjouwerman, KnowBe4 helps organizations address the human element of security by raising awareness of ransomware, CEO Fraud and other social engineering tactics through a new school approach to security awareness training. Kevin Mitnick, internationally recognized computer security expert and KnowBe4's Chief Hacking Officer, helped design KnowBe4's trainings based on his well-documented social engineering tactics. Thousands of organizations trust KnowBe4 to mobilize their end-users as a first line of corporate IT defense.
Number 139 on the 2016 Inc 500 list, KnowBe4 is based in Tampa Bay, Florida. For more information, visit www.knowbe4.com and follow Stu on Twitter at @StuAllard.