KnowBe4 earned not only Best Software List status but accolades in Best for Enterprise and Best for Mid-Sized businesses.
KnowBe4, the provider of the world's largest security awareness training and simulated phishing platform, today announced that TrustRadius, the most trusted research and review platform, has recognized KnowBe4 with multiple Best Software List badges. The first-annual TrustRadius Best Software List enables B2B software buyers to self-serve by providing important product information for their business' market size and needs by providing market-specific awards.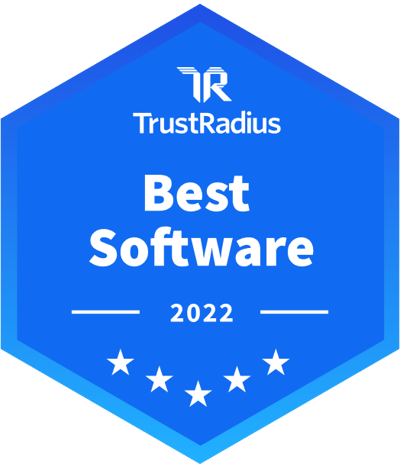 KnowBe4 earned an overall Best Software List badge along with accolades in Best Software for Enterprise and Best Software for Mid-Sized Business. The needs of a mid-sized business and an enterprise are vastly different. That's why the Best Software List is broken down into overall and market sizes to best help buyers on their journey. We want to give a huge thank you to our loyal customer base for helping us achieve these accolades.
"Buying the right technology for your unique business context is challenging. This year we've organized our Best Software List by market-size segment to help buyers narrow down their search—providing all recent, relevant, and trusted product information at their fingertips. This is all part of our mission to be the most-trusted decisioning platform for business technology buyers," said TrustRadius Founder and CEO, Vinay Bhagat.
"Providing world-class products to combat the threats of cybersecurity is a top priority at KnowBe4," Stu Sjouwerman, CEO, KnowBe4. "Our team works diligently to ensure we produce outstanding technology in order to enable organizations of all sizes around the world to make smarter security decisions and improve overall security culture. We recognize the daunting task of selecting products that best serve an organization's cybersecurity needs and are honored to be recognized by TrustRadius on this list."
Winning products had 40+ reviews generated between October 1, 2021, and September 30, 2022, and a trScore of 7.5 or higher. This ensures buyers are getting the most recent user feedback and sentiment that is unbiased and trustworthy. With a never pay-to-play awards philosophy we only have our customers to thank.
About KnowBe4
KnowBe4, the provider of the world's largest security awareness training and simulated phishing platform, is used by more than 52,000 organizations around the globe. Founded by IT and data security specialist Stu Sjouwerman, KnowBe4 helps organizations address the human element of security by raising awareness about ransomware, CEO fraud and other social engineering tactics through a new-school approach to awareness training on security. Kevin Mitnick, an internationally recognized cybersecurity specialist and KnowBe4's Chief Hacking Officer, helped design the KnowBe4 training based on his well-documented social engineering tactics. Tens of thousands of organizations rely on KnowBe4 to mobilize their end users as their last line of defense.
About TrustRadius
TrustRadius is the most-trusted research and review platform for business leaders to find and select the right software for their needs. Decision-makers across industries rely on verified, peer-based guidance and research from TrustRadius. Vendors engage and convert high-intent buyers by telling their unique story through rich reviews. Over 12 million visitors a year create and engage with high-quality review content and data on Trustradius.com. Headquartered in Austin, TX, TrustRadius was founded by successful entrepreneurs and is backed by Mayfield Fund, LiveOak Venture Partners, and Next Coast Ventures.