KnowBe4's win reinforces security awareness training's explosive growth
KnowBe4, the provider of the world's largest security awareness training (SAT) and simulated phishing platform, today announced it had won Network Computing's Security Training and Consultancy Provider of the Year award. This award cements KnowBe4's leadership in the security awareness training and simulated phishing space.
"We're extremely pleased to have won UK's prestigious Network Computing Security Training and Consultancy Provider of the Year" said Ruth Schofield, Managing Director for KnowBe4 in the UK. "We are very proud of our accomplishment and look forward to proving the very best service to our customers along with always-fresh and relevant content."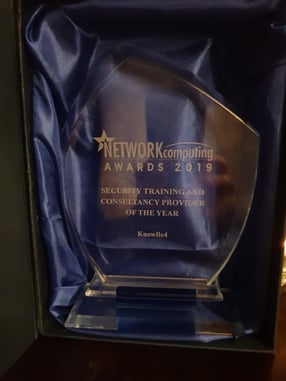 KnowBe4's CEO Stu Sjouwerman said, "We are very happy to win this award and are committed to the UK market. We've seen explosive growth with organizations recognizing the need for training to improve their security culture. Additionally, we are working with UK based organizations such as Twist and Shout to continue to provide relevant and Netflix quality content." Sjouwerman further noted, "We are also very proud of our UK team for their dedication to our customers."
Cyber-attacks are on the rise globally and more organizations are being impacted by a cyber incident year-on-year according to the Hiscox Cyber Readiness Report 2019. Users need to be made aware of what current attack trends look like, tactics being used, how they should respond and why it matters to them. Effective new-school security awareness training helps reduce risk and strengthen an organization's human firewall.
The Network Computing Awards event was held at the Bloomsbury Street Hotel in Central London earlier in May. For more information on the awards and winners visit http://www.networkcomputingawards.co.uk/.
About KnowBe4
KnowBe4, the provider of the world's largest security awareness training and simulated phishing platform, is used by more than 25,000 organizations around the globe. Founded by IT and data security specialist Stu Sjouwerman, KnowBe4 helps organizations address the human element of security by raising awareness about ransomware, CEO fraud and other social engineering tactics through a new-school approach to awareness training on security. Kevin Mitnick, an internationally recognized cybersecurity specialist and KnowBe4's Chief Hacking Officer, helped design the KnowBe4 training based on his well-documented social engineering tactics. Tens of thousands of organizations rely on KnowBe4 to mobilize their end users as the last line of defense.
Number 96 on the list Inc. 500 of 2018, number 34 on 2018's Deloitte's Technology Fast 500, and 2nd place in Cybersecurity Ventures Cybersecurity 500, KnowBe4 is headquartered in Tampa Bay, Florida, with offices in Brazil, England, the Netherlands, Germany, South Africa and Singapore and newly acquired CLTRe in Oslo, Norway.