Experienced C-level executive to lead KnowBe4's efforts in the DACH region; Former managing directors Detlev Weise and Christine Kipke have shifted to strategic advisor roles
KnowBe4, the provider of the world's largest security awareness training and simulated phishing platform, today announced it has hired Dietmar Giese as the new managing director for the DACH region.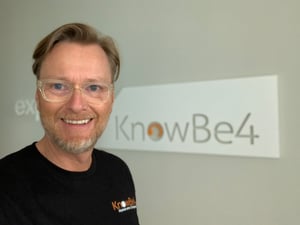 Giese has held several leadership positions with over 20 years of professional experience within sales, advertising, marketing, technology, business consulting and investment banking. He was previously a regional manager for the DACH countries at ¡Advize. Prior to that, Giese was an executive director at Trusted Shops in Cologne, Germany, where he was responsible for setting up a new SaaS platform based on Amazon Web Services. He earned his degree from the University of Bonn where he studied communications research with a focus on computer linguistics, man-machine communication and artificial intelligence.
"Dietmar is an accomplished, experienced, C-level executive who comes to us with a wealth of knowledge in the technology market and we look forward to the contributions he will make to our organization in his new role," said Stu Sjouwerman, CEO, KnowBe4. "DACH is a growing market for security as digitization continues to increase. Organizations across that region are seeing the need for security awareness training to empower their workforces to make smarter security decisions."
"I am thrilled to pursue this opportunity at KnowBe4, as I strongly believe that there is a big opportunity ahead of us in DACH," said Giese. "I am happy to contribute to KnowBe4's vision to help organizations in becoming a safer place, especially in the digital environment."
For more information on KnowBe4, visit www.knowbe4.com.
About KnowBe4
KnowBe4, the provider of the world's largest security awareness training and simulated phishing platform, is used by more than 34,000 organizations around the globe. Founded by IT and data security specialist Stu Sjouwerman, KnowBe4 helps organizations address the human element of security by raising awareness about ransomware, CEO fraud and other social engineering tactics through a new-school approach to awareness training on security. Kevin Mitnick, an internationally recognized cybersecurity specialist and KnowBe4's Chief Hacking Officer, helped design the KnowBe4 training based on his well-documented social engineering tactics. Tens of thousands of organizations rely on KnowBe4 to mobilize their end users as the last line of defense.