New KnowBe4 2019 Security Threat and Trends Report finds organizations still facing significant challenges when it comes to security initiatives
KnowBe4, the provider of the world's largest security awareness training and simulated phishing platform, today announced the results of its 2019 Security Threats and Trends Report.
The KnowBe4 2019 Security Threats and Trends Report polled 600 organizations worldwide in mid-2019 on the major security issues they will face in the next 12 to 18 months. It covers security initiatives, how well organizations are equipped to deal with security threats, the most persistent security threats, ongoing challenges in security and more.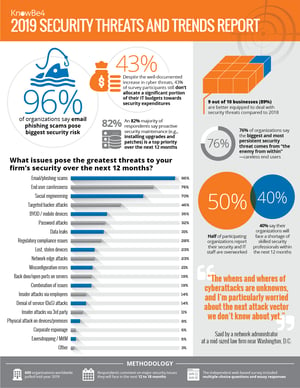 "This study shows us why it's a really good idea to step your users through new-school security awareness training," said Stu Sjouwerman, CEO, KnowBe4. "The threats aren't going away any time soon – the bad guys are just getting more and more clever. That's why it's so important to build up your human firewall – your end users – to better protect your organization."
Survey highlights include:
A majority of corporations – 86% – have proactively amplified security initiatives over the last year to combat the increase in cybersecurity attacks.
Nearly nine out of 10 businesses – 89% – say they're currently better equipped to deal with security threats than they were in 2018.
Three quarters or 76% of organizations say the biggest and most persistent security threat comes from "the enemy from within" – careless end users – who regularly clicks on bad links, placing organizations at higher risk of falling victim to email phishing, ransomware, CEO fraud scams and various forms of malware.
58% of organizations cite budgetary constraints as an ongoing challenge in upgrading security.
To read the full report, visit https://blog.knowbe4.com/knowbe4-2019-security-threats-and-trends-report-october-2019.
About KnowBe4
KnowBe4, the provider of the world's largest security awareness training and simulated phishing platform, is used by more than 28,000 organizations around the globe. Founded by IT and data security specialist Stu Sjouwerman, KnowBe4 helps organizations address the human element of security by raising awareness about ransomware, CEO fraud and other social engineering tactics through a new-school approach to awareness training on security. Kevin Mitnick, an internationally recognized cybersecurity specialist and KnowBe4's Chief Hacking Officer, helped design the KnowBe4 training based on his well-documented social engineering tactics. Tens of thousands of organizations rely on KnowBe4 to mobilize their end users as the last line of defense.
Number 161 on the 2019 Inc. 500 list, #34 on 2018 Deloitte's Technology Fast 500 and #2 in Cybersecurity Ventures Cybersecurity 500. KnowBe4 is headquartered in Tampa Bay, Florida with European offices in England, the Netherlands, Germany and offices in Brazil, Australia, Japan, South Africa and Singapore.