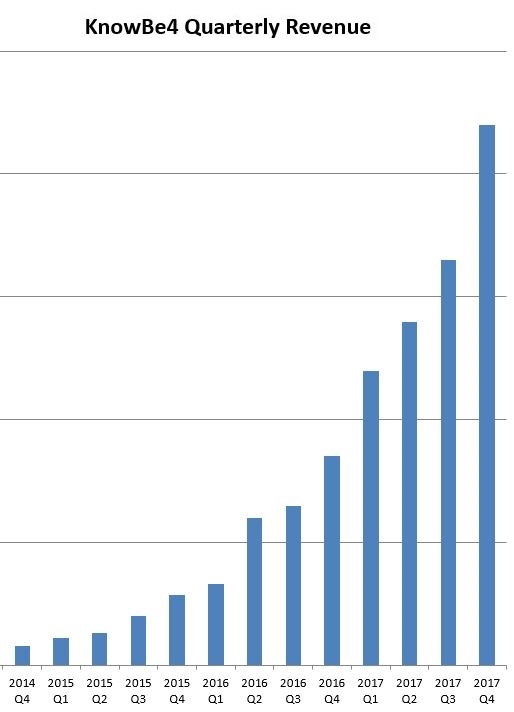 Continued growth of ransomware and social engineering threats fuel 19th consecutive quarter increase
KnowBe4, the world's largest platform for integrated security awareness training and phishing announced its explosive year over year sales increase of 255% for Q4 2017, with a record number of new corporate accounts in December, bringing customer accounts to well over 15,000.
"The continued accelerated growth we've seen this quarter is due in part to our exceptional focus on our customers and providing them with a best-in-class platform," said KnowBe4 CEO Stu Sjouwerman. "We've continued to innovate and provide always-fresh content for their training needs."
Sjouwerman (pronounced "shower-man") continued: "Cybercrime continues to become more sophisticated and the potential harm from ransomware, CEO fraud (BEC), phishing and other social engineering attacks can be staggering for an organization. CISOs and IT managers recognize the power and ease-of-use of the KnowBe4 platform to enable their employees to make smarter security decisions, reducing their social engineering attack surface."
There is more and more data in today's digital world for the bad guys to steal. Email remains the top threat vector and today, ninety-three percent of phishing emails contain malicious ransomware attachments. Ransomware is still one of the top threats to organizations, with sixty-three percent experiencing an attempted ransomware attack in 2017 and another twenty-two reporting these incidents occurred on a weekly basis.
Since cybercriminals continue to refine their methods, organizations must legally consider today's social engineering risks and "scale security measures to reflect the threat". They must train their workforce to make smarter security decisions and create a human firewall as an effective last line of defense when all security software fails, which it always will.
Other recent and notable milestones and awards for Q4 2017 include:
· Positioning as a leader in the Gartner Magic Quadrant for Security Awareness Computer-Based Training
· Secured $30 million Series B investment lead by Goldman Sachs Growth Equity with existing investor Elephant participating
· The acquisition of Securable.IO
· Recognition by Frost & Sullivan as a Customer Value Leader for its Cybersecurity Training Platform
· Securing the #70 spot in Fastest Growing Company in North America on Deloitte's Technology Fast 500 for 2017
· Release of innovative new "Second Chance" email security tool
· Partnership with AwareGO for additional fresh security awareness video content
· Securing the #5 spot in Florida's 100 Fastest Growing Companies
According to Sjouwerman, "KnowBe4 has demonstrated that new-school security awareness training is a "must-do" for CEOs, C-level executives and managers in Finance and HR who are increasingly becoming targets for cyber criminals. Unlike other security awareness training providers, KnowBe4's approach to training is designed to keep employees on their toes and provide personalized tests to keep users engaged, with security top of mind.
For more information, visit www.KnowBe4.com
About KnowBe4
KnowBe4, provider of the world's largest integrated new-school security awareness training and simulated phishing platform, is used by more than 15,000 organizations worldwide. Founded by data- and IT-security expert Stu Sjouwerman, with backing from Elephant Partners and Goldman Sachs Growth Equity, KnowBe4 helps organizations address the human element of security by raising awareness of ransomware, CEO fraud and other social engineering tactics through a new-school approach to security awareness training. Kevin Mitnick, internationally recognized computer-security expert and KnowBe4's Chief Hacking Officer, helped design KnowBe4's training based on his well-documented social engineering tactics. Thousands of organizations leverage KnowBe4 to enable their workforce to make smarter security decisions and create a human firewall as an effective last line of defense.
KnowBe4 is ranked #231 on the 2017 Inc. 500 list, #70 on Deloitte's 2017 Technology Fast 500 and #6 in Cybersecurity Ventures Cybersecurity 500. KnowBe4 is headquartered in Tampa Bay, Florida with European offices in London and Amsterdam. For more info, visit http://www.knowbe4.com and follow Stu on Twitter at @StuAllard.